Affiliate disclosure: To help keep our content free we may earn a commission when you click links on our site and make a purchase.
Are you one of the many that are learning about the benefits of a rowing machine? While rowing machines have been around for ages, more and more fitness enthusiasts are recognizing the benefits they offer over traditionally more popular alternatives like treadmills. Not only is it much more of a low-impact exercise than a treadmill, but it delivers more efficient and effective workouts according to Dr. Cameron Nichol [1].
So, you've decided that you want to see what all of the hype is about. Now comes the hard part. Choosing the right rowing machine. Picking out a rowing machine might take more effort than a treadmill if you're unfamiliar with the exercise. With so many options, choosing the right one can be extremely difficult. However, sticking to some of the more reputable brands can pave the way towards an easier decision.
Two of the brands that produce some of the highest quality treadmills available are Aviron and NordicTrack. Both of these brands have rowing machines worth considering.
By the end of this comparison, you should have a good idea of which one would be right for you.
Meet the Aviron Rowing Machine
Aviron offers a connected rowing machine that is fully designed with the user in mind. The brand offers two distinct rowing machines. The first being the Impact Series Rower and the second being the Tough Series Rower.
Meet the NordicTrack Rower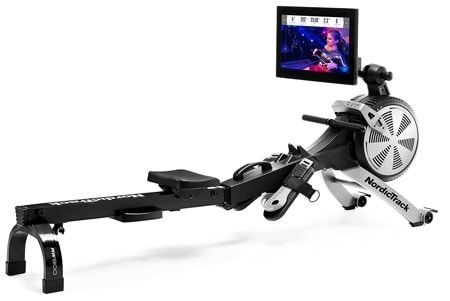 NordicTrack offers three different rowing machine models. Each rowing machine is designed to fulfill the needs at varying price points. Likewise, each rowing machine offers its own connected experience.
See Nordictrack best price at Amazon
Features Compare: What Aviron and Nordictrack Offer
1. Aviron Key Features
Dual Air and Magnetic Resistance
One of the things to note about Aviron is that it comes with both air and magnetic resistance. This is unique because it delivers the smooth feel of rowing on the water and the strength training versatility that comes with magnetic resistance. Meaning, you can make seamless transitions from doing solely cardio to strength training at the drop of a dime.
22-Inch High Definition Touchscreen
Both of the Aviron models come with an included 22-inch high-definition touchscreen. This touchscreen makes it easy to get a premium workout experience while participating in guided workouts.
Lightweight and Reinforced Options
One of the things you might want is a choice between a lightweight rower and a heavy-duty one. Aviron makes two distinct models that cater to specific users. The Impact rower is designed to be a more lightweight option featuring an aluminum construction. Whereas, the Tough series rower is designed to provide the highest level of stability being made out of high-strength steel with a double-width reinforced rail.
Space Saving and Easy Transportation
The Impact series rowing machine is capable of folding. It features a patented folding structure and 4 wheels for easy transportation. Because this model folds, it makes for an ideal rowing machine for those that have limited space. Many might need to fold up the rowing machine after each use to avoid having the rowing machine taking up too much space. While the Tough series rowing machine doesn't fold, it does have 2 wheels located in the front to make it easy to move around your place.
2. NordicTrack Key Features
The NordicTrack rowing machines offer dual resistance options. With these rowing machines, you get a powerful combination of both digital and air resistance to ensure that you get yourself a satisfying and effective workout every time. The rowing machines offered by NordicTrack feature 26 digital resistance levels. Therefore, you are getting varying levels to choose from when it comes to getting your workouts in. The rowing machines also have silent magnetic resistance to ensure you don't wake up the entire house while you're working out in the morning.
Up to 22-Inch High Definition Touchscreen
When you are looking to buy a connected rowing machine, one of the key features you will want is an included touchscreen. The NordicTrack offers three models and each has a different size of touchscreen display included. The cheapest model (RW600) comes with a 10-inch display, the second cheapest (RW700) comes with a 14-inch display, and the most expensive (RW900) comes with a 22-inch display.
If you don't have a lot of space, a rowing machine can present a problem. However, a lot of the models you will find might feature a storage-friendly design. Each of the NordicTrack rowing machines features NordicTrack's SpaceSaver design. This ensures you can vertically fold the rowing machine for storage. That way, you can tuck it in the corner or even in a tall closet when it's not in use.
When buying a rowing machine, you want to ensure that it's suitable for your size and height. Having easy-to-adjust pedals is one of the things you will want to look for. The NordicTrack rowing machines each come with quick-adjust pedals. These are pedals that have fully adjustable foot straps to give you quick and easy adjustments to get an effective workout in each session.
Workout Compare: Studio Style vs Gamified Experience
1. Aviron's Workout Options
Aviron's rowing machines and the entire platform is built on the idea of 'gamifying workouts.' One of the biggest reasons a lot of people struggle to get in highly effective workouts consistently is because they find a workout out to be boring. Aviron recognized this and sought to find a way to make working out fun. When you buy an Aviron rowing machine, you will never find working out boring again. The rowing machine delivers 7 different ways to work out.
One way is by taking you through an immersive rowing experience and allowing you to row at some of the most scenic destinations.
Aviron includes games that you can use to make the entire workout experience a fun and enjoyable one. You can play games that task you with outpacing hungry wolves looking to eat you and even escaping a hoard of zombies chasing after you. As you can probably tell, rowing while playing a game can make the entire process much more exciting and less dull. This can make you want to row more often.
You can choose from data-driven workouts that are optimized to help you achieve your fitness goals.
You can compete against professional athletes and even Olympians.
You can partake in community challenges and weigh your results with the rest of the Aviron rowing community.
You can choose from various professionally guided programs that are designed by athletes and professional trainers.
You can turn your fitness goals into a competitive gaming experience that provides you with visual stimulation and shows you the progress you're making in a video game format.
You can choose from old-school arcade-inspired games that get your heart racing.
2. NordicTrack's Workout Options
NordicTrack takes a much more standardized approach to work out. The entire NordicTrack rowing experience is run off the iFit platform. This is a platform that is more studio-style that immerses users in a studio-like experience. This can be a good substitute for those that prefer the traditional workout experience of working out while following a professional instructor. However, the iFit platform does feature global workout opportunities while allowing you to get your workouts in at some of the most beautiful places in the world.
One of the things to like about the iFit platform is its instructors. With iFit, you get access to some of the best instructors you'll find anywhere.
Working out is pointless if you aren't able to effectively track your results. With NordicTrack's rowers, you will get stat tracking technology built-in. That way, you can figure out how effective each workout is and whether or not you can do anything to improve it.
Price Comparison
1. Aviron Pricing Options
Impact Series Rower = $2,199
Tough Series Rower = $2,499
2. NordicTrack Pricing Options
RW600 = $999
RW700 = $1,299
RW900 = $1,599
You Should Pick Aviron if…
You struggle with consistency because you find workouts boring. Many people cannot get consistent workouts into their daily lives because they don't have the motivation to do so. The Aviron rowing machine makes it more fun to work out than ever before. Whether you enjoy games or you just want something that can keep workouts fun and exciting, Aviron does a great job of helping you look forward to every workout session.
You want more varied and fun workout experiences. Aviron does a great job of providing its users with plenty of different workout options. This ensures that you will find something that suits your workout style.
You are a competitive person. If you are a competitive person, there is no better rowing machine on the marketplace. Whether you want to push yourself against top athletes or other users on the platform, you have plenty of different ways to compete.
You want strength training along with cardio. Aviron gives you more of a range to get effective strength training and cardio into your workouts.
You want the best build quality available and you're willing to pay for it.
You Should Pick Nordictrack if…
You want to save money. You will find that NordicTrack's rowing machines are much more budget-friendly. Despite that, they provide an excellent user experience.
You want a more studio-like experience. If you are after a much more studio-style experience, iFit is going to deliver. You will be able to have your workouts taking place in a studio setting with instructors leading the way.
You already have NordicTrack equipment. If you already have a treadmill or another NordicTrack equipment in your home gym, you might want to opt for a NordicTrack rowing machine. After all, you are likely already subscribed to iFit and you can get more out of the ecosystem if you stick to the same brand.
You want the opportunity to buy a rowing machine that doesn't have a huge screen. Not everyone wants to pay more for a large screen.
You want NordicTrack's Space-Saving design. If you don't have a lot of room, NordicTrack's Space-Saving design may be a better fit for your use case.
See Nordictrack best price at Amazon
References: