Affiliate disclosure: To help keep our content free we may earn a commission when you click links on our site and make a purchase.
Being able to get in a comprehensive workout using the right cardio machine is easier said than done.
It's important to go through all of the details by understanding what machines are available for you to buy. This includes a world-class addition to the fitness industry in the form of the Bowflex Max Total 16.
This review is going to assess the machine inside and out to understand how it works. This includes finding out whether or not this is the right workout machine for your needs moving forward.
What is the Bowflex Max Total 16?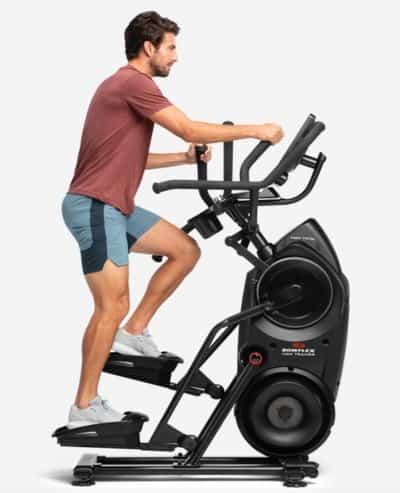 The Bowflex Max Total 16 is a new-age elliptical machine designed to offer a wide array of high-performance features including 20 resistance levels, fitness app integration, and refined handlebar grip.
This is a fitness powerhouse designed using state-of-the-art technology. The focus is on crafting something that is not only good for a good workout session but also ensuring it is low impact at the same time.
This is the vision behind the Bowflex Max Total and what it has to offer.
Best Features and Key Highlights
1. 16″ HD Touchscreen
The touchscreen is a beautiful element associated with the machine and something that will draw your eye as soon as MT16 turns on.
There aren't too many displays as striking and gorgeous as this one on the market. You will know it as soon as the machine turns on and you begin to swipe around on the touchscreen.
Not only is this display a breathtaking part of the machine, but it also is adjustable. This means you can move it around based on the angle that works best for you while running. This means whether you are on the shorter or taller side, this screen can be set at the right height.
This attention to detail screams excellence and is a great start for what the MT16 brings to the table.
2. Wi-Fi Connectivity
If you are someone that wants to stream shows while working out, you are going to need to connect the device to a Wi-Fi connection one way or the other.
A lot of people end up relying on personal connections or devices, which are not as appealing as being able to connect through the machine itself.
The benefits include:
Easy To Setup
Fast Connection
The MT16 is futuristic and takes care of this for those who are going to be connecting to the Internet at one point or the other.
With the Wi-Fi connection, you are not going to have to think about this. It will connect seamlessly and work the way you want it to.
3. 6-Grip Handlebars
Are you someone that struggles to hold onto the handlebars while working out hard?
This is a common issue for those who are still getting used to the technique and/or pushing through a HIIT session at home.
The problem is, if your hands slip at one point during the session, it's possible to get injured. The best thing a person can do is avoid going with a machine where the hands can slip. The 6-grip handlebars are impressive and will blow you away.
4. App Integration
The JRNY app is a masterpiece and exemplifies everything a person wants while working out.
You are going to feel in control of how each aspect of the workout is completed. Whether you are someone that is looking to go through a light-hearted 20-minute session or a fast-paced HIIT session, the app will help find a program that works for you.
This is an all-encompassing part of what Bowflex brings to the table.
The benefits include:
Wide Array of Programs
Fast Integration
The amount of work that has gone into the app will impress you in seconds. You will feel it as you are going through the on-demand and live streaming content.
There is a lot on offer and you will find something that works for you.
Pros
1. Well-Built
The first thing you are going to notice will be the design.
It is well-built and the machine is not going to rattle when you are working out. A lot of people worry about a machine that is going to make too much noise and wake up the entire house when it is time to sweat things out.
This is a machine that has considered those details and can take a lot of impact without breaking down.
2. 20 Resistance Levels
A person that is going to want to keep improving will want to switch resistance levels from time to time. This is a common expectation for any machine of this caliber.
You will not have to worry about that here.
The MT16 is great because you can effortlessly switch between 20 resistance levels.
The benefits include:
Great for Experienced Users
Premium Transitions Between Levels
These resistance levels are great because the switches are seamless. This means you can quickly switch during a workout to ramp things up slowly.
3. Great Display
The HD touchscreen is world-class and it is going to be a showstopper for those who use the machine for the first time.
This display is crisp, easy on the eyes, and simply works the way you want. A person that is looking to step things up will know this is a display that is immaculate from all angles. Everything you do on the display will be excellent.
This is what makes the display impressive and inspiring.
4. Ideal for HIIT
Are you someone that is looking to complete HIIT sessions during the week?
If this is a big part of your workout then this is the machine for you. The MT16 has been engineered with HIIT sessions in mind and this goes beyond what the app has to show.
You get to use a machine that is built to last and is not going to rattle under you when it is time to go hard.
The benefits include:
Great for Ramping Up Workouts
Doesn't Make Loads of Noise
When you enjoy the resistance levels, you will appreciate all that comes along with this machine. It will impress right away.
Even those who don't complete HIIT sessions often will enjoy this perk because it works just as well at reduced speeds.
Cons
1. Expensive
The only issue that pops up with this machine has to be the initial cost.
You are going to be paying a sizable cost to get going with the MT16 but it is going to last for a long time. Most people see this as a key investment in their home gym and one that is going to last for a long time.
To back up what they are selling, Bowflex does a good job of making sure there is a good warranty program behind it.
You get 3 years of parts and labor with the help of Bowflex. This is empowering for those who want to receive as much protection as possible.
Size and Specs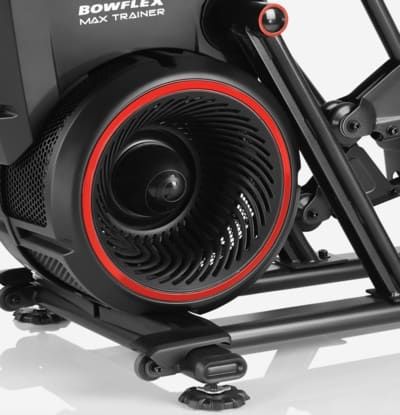 Dimensions: 49.3″ L x 30.8″ W x 65.7″ H
Weight Capacity: 300 Lbs.
Weight (Built): 155.4 Lbs.
JRNY Workout Options
1. On-Demand Classes
The JRNY app is great because you are going to get the opportunity to go through a large collection of on-demand classes that are updated regularly.
You are never going to feel out of the loop with this app.
There is so much content on the app and it is designed by some of the finest instructors on the planet. This ensures you get to enjoy the content that will leave you sweating buckets each day.
2. Live Streaming
Streaming is a major plus for those who want fresh content as often as possible.
You can hop online and tap into the live content that is available through the app.
The benefits include:
World-Class Instructors
Easy to Follow for Beginners
Enjoy the live sessions and make the most of them as soon as you are online.
The instructors are great and you are going to learn a lot by following them.
3. Personalized Workouts
The workouts are personalized and that is powerful for those who want to tap into something that is more customized in how it works.
These tailored workouts are going to push you hard and are a lot of fun too.
Learn more about JRNY workout options at Bowflex
Entertainment Streaming Options
Netflix
Hulu
Disney+
Amazon Prime
Warranty Options
There is a set warranty in place with the MT16 and it is one of the best policies on the market right now.
You get 3 years of parts and labor protection on the date of the purchase. This ensures you receive appropriate coverage for years to come.
This is how much faith Bowflex has in the machine and how it works.
Pricing Details
Bowflex Max Trainer 16 – $2,799
Final Thoughts
The MT16 is a masterpiece and has been engineered with a high level of care.
Whether it is the detailing, app integration, impressive display, or the overall look, you will enjoy each part of the machine.
This is a must-buy for those who want the best machine on the market right now.