Affiliate disclosure: To help keep our content free we may earn a commission when you click links on our site and make a purchase.
Ever since the pandemic started, electric bikes have taken the fitness world by storm. Sales of at home fitness equipment have seen a major rise, and as people have now gotten used to enjoying high quality workouts at home, this is not expected to change any time soon.
Manufacturers like Echelon and Peloton have taken the home workout game to the next level by providing smarter and more connected gym equipment than ever before. If you are in the market for a smart exercise bike, you are not alone. But there are now countless options to choose from, and picking the suitable fit is not as easy as it once was. With more and more features being packed into these bikes, doing a bit more research has become necessary.
Peloton is undoubtedly the more familiar name in connected fitness; however, Echelon bikes are perhaps the ones you've come across before without really noticing. Echelon products are among the top alternatives you'll find when you look up "cheap Peloton alternatives". The company is now having an all-out attack on Peloton, especially with their new bikes and treadmill offerings. The Echelon EX-8S is their latest premium offering.
Read on for our full Echelon EX-8s review.
What's New with the new Echelon EX-8s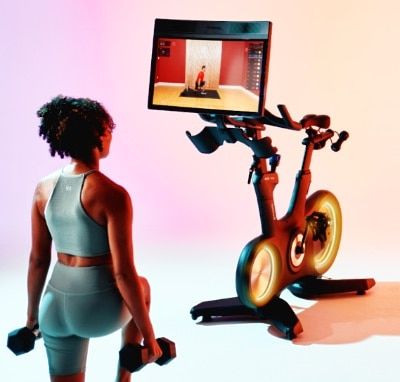 Connected fitness bikes have already been in Echelon's portfolio, but this new model is packed with even more features and value. One of the first things you'll notice about it is its breathtaking design. It features a curved HD touchscreen, which enhances your viewing experience by making everything super immersive.
This is a huge benefit for a fitness bike with features meant to take you on a fitness ride through various scenic journeys. An immersive experience will not only be more motivating, but also keep you interested in doing more workouts.
Enhanced Features and Specs: Why it's Their Best Bike Yet
Most people find working out inherently boring. This is especially the case for people trying to work out at the comfort of their homes. In fact, this is one of the main reasons why people look for connected experiences with their workouts. Afterall, who wants to work out alone in utter silence without interaction? Most people join gym classes because they want some form of interaction.
The Echelon connected platform is one of the most effective at encouraging engagement and interaction. Their membership plans give you access to more than 60 global instructors, along with access to more than 40different daily classes that are performed live. You also get to enjoy thousands of on-demand classes as well as challenges you can participate in. These challenges may feature guests that make every session exciting.
Motivation is essential when looking to achieve a fitness goal. Echelon's connected workout experience helps make everything fun and interactive. All in all, these things add up to boost motivation.
What I Love About Working Out on the EX-8s – Yes I Love The LED Wheels!
From the first impressions, you might think that the LED flywheels are just a gimmick. While not everyone will love them, they do add to the experience. Echelon is looking to enhance your experience by making things more interactive. That's why they included the LED flywheel lights in the new model to boost motivation.
There's seemingly a new trend here; echelon is now shifting its focus on enhancing user's motivation and enhancing the experience. While the LED lights might seem like an aesthetic addition, they do contribute a lot more than meets the eye.
The lights are designed to sync with the user's metrics during a workout. This includes the heart rate zone and output. As a result, they can motivate the user psychologically to help you increase the intensity of workouts and encourage you to keep going.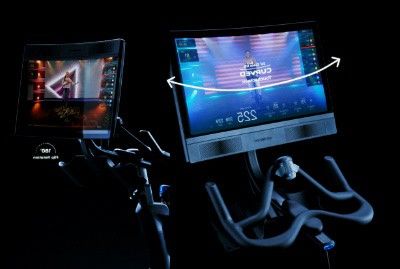 This is hands down the best screen in the industry. Echelon outdid itself by including this new and improved 24-inch touchscreen display. It might not seem like a big deal, but it helps add a whole new level of immersion to the whole experience. The more immersive experience is key to getting the most out of your workouts.
Combined with the immersive nature of the scenic workouts, you will enjoy hopping onto your bike even on those days that you don't feel motivated enough. We think that anything that can help boost your motivation to get on the bike is a huge plus. The HD curved screen included with the bike is one of the key things that will certainly get you excited about starting your next workout.
Echelon's Live and On-Demand Workout Options
Just as with other Echelon products, the bike will require you to sign up for an Echelon subscription membership, which costs $35 a month. The subscription gives you access to live classes and a rich library of over 15,000 on-demand workouts.
The company has been expanding its entertainment offerings recently, and they now include classes featuring Reba McEntire and Lady Gaga, Monday Night rides with former NFL stars, Broadway series rides inspired by musicals like "Dear Evan Hansen" and "Wicked", among others. There are also celebrity instructors including Joey Fatone (a singer), Mario Lopez (a host/actor), and Pitbull (rapper) who recently became a stakeholder in the company.
Their content variety is also expanding, and the new Echelon Classes+ content for 2022 and beyond will include new fitness challenges and programs designed to suit different member goals. There are new prenatal classes, guided meditation, outdoor running classes, circuit training, boxing, cardio dancing, Zumba Party Rides, and new scenic runs, rides, or rows in their ever-expanding library. It's on-demand library now has over 15,000 classes, with more than 200 live classes being filmed every week.
The performance of a connected fitness bike is not something to ignore. Fortunately, Echelon doesn't skimp on the quality of the bike's design. The bike has a smooth ride that should have you gliding without waking up your entire house. Its magnetic resistance is adjustable such that you can raise or lower the overall intensity of your workouts to 32 different levels.
The EX-8s also comes with SPD compatible pedals to ensure that users who want to enjoy a more seamless experience with cycling cleats feel at home. Perhaps best of all, it's now easier than ever to adjust the resistance levels with the included Bluetooth resistance controller. The controller is conveniently attached to the center of the handlebars, allowing for easy and smooth adjustments during your ride.
The curved HD display is more than a joy to look at; it includes two user-facing speakers that will blow you away. It's quite refreshing considering that one of the main drawbacks of the previous Echelon products was speakers that just weren't up to par.
While some of these speakers were good enough, they didn't offer the kind of experience the visuals were able to achieve. Now, the included speakers pack a punch. They deliver what feels like twice the sound of the previous models, with the kind of immersion you would expect from a premium offering.
As a connected bike from a reputable brand, it shouldn't be a surprise that the bike comes with performance tracking features. With the echelon app, you can track the leaderboards, and access important metrics and data about your workouts. You will have plenty of data to look at and use as motivation for enhancing your fitness journey.
As mentioned earlier, this bike comes with LED flywheel lights with 15 different color variations. The lights ideally sync up with your workout metrics, allowing for an immersive experience you can't get anywhere else.
If you want something to take your workouts to the next level, perhaps LED lights that sync to your rhythm might do wonders for you. Seeing the lights change according to the intensity of your workouts might help get you psychologically ready to pump faster, harder, and longer.
Pros and Cons of the Echelon EX-8S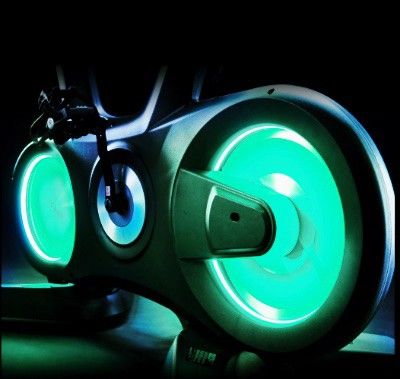 Pros
If you want a bike that delivers an immersive experience out of the box, the EX-8s is a great option. It delivers a great experience that you just can't find elsewhere. The crystal-clear HD display delivers amazing quality visuals and works together with the high-definition speakers that deliver twice the sound of the previous models.
When it comes to smart fitness bikes, changing the resistance levels should be as seamless as possible. For the EX-8s, the integrated Bluetooth resistance controller makes it much easier to adjust the levels, which makes it a breeze to find the right spot.
The included LED lights on this bike go a long way in enhancing the overall experience. They might look like a gimmick, but they can help put you in the right mood, enhance your immersion and motivate you subconsciously.
Impressive Performance Tracking
Connected workout experiences are not worth much if they don't track your performance. The EX-8s come with excellent performance tracking that should keep you fully aware of your progress at all times.
The monitor can swivel for 180 degrees, which makes it easy to use the bike and the included monitor for full-body workouts. For many users, a fitness bike that can only be used for cycling is a waste and such a turn-off. Echelon is aware that customers want a full-body workout experience, and that's why they include off bike activities and exercises. Users can get an immersive full-body workout experience whether they are on the bike or not.
Cons
The Echelon EX-8s is a new offering from the company, and it's quite expensive. Pre-orders start at $1,999.99, while the MSRP is $2,399. If you sign up for their monthly subscription, it will cost you another $34.99 a month. More on this below.
EX-8s Pricing Options: How Much Does it Cost?
At the time of writing, you can sign up to buy an Echelon EX-8s for $1,999, which is part of their "New Year New You" pre-sale campaign. The offer ends on 15th January 2022, and the price includes shipping. Note that the MSRP is $2,399.
Here is the pricing for this offer:
Echelon EX-8s Connect Bike = $1,999.99
Echelon Premier Monthly = $34.99
Echelon Premier Yearly = $399.99
Echelon Premier 2-Year = $699
Note that the bike is yet to be released, and the pricing may be updated when it's released in January 2022.
Summary
The Echelon EX-8s is a great bike that will not only fit into any home, but also work for users no matter their fitness levels. Of course, this only works if it fits your budget.
You should buy the Echelon EX-8s if:
You want to most immersive workout experience
Echelon did everything in their power to design a bike that will immerse the user into their workouts. So if you are looking for such a solution, then this decision is easy. The EX-8s is designed to deliver the kind of experience you would expect from a premium fitness bike.
You are looking for a stimulating workout experience
The included LED flywheels can make the workout experience quite exciting. The lights will help make sure you max out your intensity in each of your workouts.
You don't mind paying for a quality experience
There's no getting around the fact that the bike and its membership plans are quite expensive. This is rightfully so considering that the EX-8s is one of the most premium bikes in the marketplace and has the price tag to match. If you want to enjoy the premium experience, you have to pay for it. Keep in mind that they also offer more affordable options to suit different budgets.
You don't already subscribe to a workout service
If you are already using a connected workout service, it might not make a lot of sense to switch. For instance, if you are already a member of the Peloton fitness service, you might not want to make the switch in a heartbeat.