Affiliate disclosure: To help keep our content free we may earn a commission when you click links on our site and make a purchase.
Today's modern world can make keeping fit seem like a challenge, but investing in a quality exercise bike can provide the motivation you need.
Modern exercise bikes also have advanced features such as magnetic resistance technology as opposed to actual wheels, which makes them quiet, safe, and sturdy and this makes them ideal for using at home.
Why Invest in an Exercise Bike?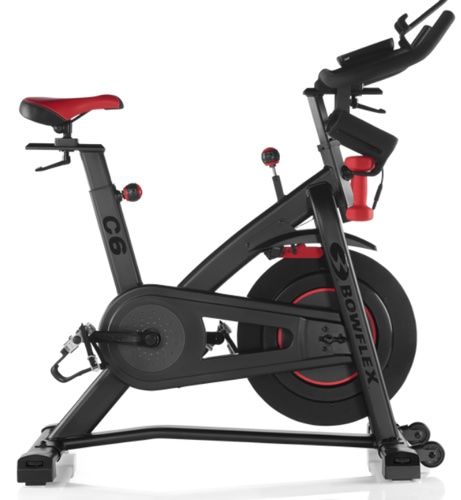 Exercise bikes provide a great cardio workout and offer many fitness benefits, which include strengthening the legs, increasing muscle tone, as well as burning calories.
They are also relatively compact, especially when compared to cross trainers and treadmills and don't make as much noise.
Exercise bikes are also great for those with injuries, but only if used properly. Biking is a low-impact workout, which means that there's less potential for damage to the hips, knees, and ankles.
It is due to this reason that cycling indoors is such a great way to maintain cardio fitness when recovering from injuries.
Today, there are so many types of exercise bikes available in the market that it can be challenging to find the right one for you. However, this doesn't have to be the case since Bowflex and Schwinn have excellent bikes that you can choose from. The Schwinn IC4 and Bowflex C6 are two of the best exercise bikes currently available in the market.
Features Overview: IC4 vs. C6
The Bowflex C6 and Schwinn IC4 are basically identical since they are owned by the same company, Nautilus. The two bikes are by all appearances completely identical.
At a glance, the branding seems to be the only difference between the two models. With that in mind, here's a look at a few of the key features they share.
Tablet Holder
Neither the IC4 nor the C6 comes with its own screen. If you would like to participate in live workouts or watch videos, you will have to use your own tablet or phone. Both bikes, however, have a full-color LCD screen that allows you to easily track workouts and monitor your progress.
100 Micro-Adjustable Levels of Resistance
The IC4 and C6 both have 100 micro-adjustable levels of resistance that allow you to adjust the bike and find a resistance level that's ideal for you. The resistance level is changed manually and this can be easily done even when using the bike.
Bluetooth-Enabled Heart-Rate Armband Monitor
The Schwinn IC4 and Bowflex C6 both come with a Bluetooth enabled heart-rate armband monitor.
If you would like to get your heart rate up when working out, you can track that via the armband monitor and make appropriate adjustments to your workout routine.
The Bluetooth connectivity also lets you access any connected apps via your tablet, phone, or even Smart TV. The bikes both come with a tablet holder, which means that it should be very easy to use workout/biking/fitness apps when on the bike.
Dumbbells
The Schwinn IC4 and Bowflex C6 both come with a pair of 3 lb. dumbbells. The dumbbells are held in cradles, which makes it easy to reach them when riding. The dumbbells allow you to get a complete body workout during your biking session.
Streaming Workout Options: Which Apps Can You Use?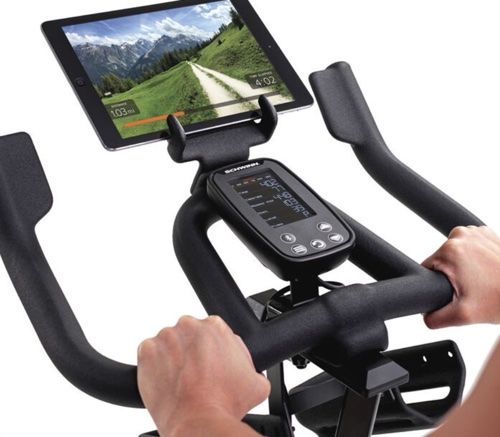 The Schwinn IC4 and Bowflex C6 don't have a built-in screen or tablet, which means that you will not be trapped into any one ecosystem.
You can experiment with different streaming fitness services to find something that works best for you.
Both the C6 and IC4 as marketed as being "Peloton-ready," meaning they can be used with the Peloton app. You'd need a TV or device to stream the Peloton service, however, as well as pay the monthly membership fee.
Here's a quick look at just a few of the apps the C6 and IC4 are compatible with:
Peloton
Zwift
Explore the World
Sufferfest
Rouvy
TrainerRoad
and more
Price Comparison: Which Bike is Cheaper?
The Schwinn IC4 and Bowflex C6 are essentially the same except for a handful of differences in appearance, which means that there isn't a strong justification for choosing a certain model over the other.
If you are trying to choose between the two models, pricing should be your main consideration.
Bowflex Cost
The Bowflex C6 currently retails at $949. For that price, you get free shipping and a free mat too. Financing options are also available. For instance, if you sign up for an 18-month financing plan, you will be making $53 monthly payments.
If you prefer in-home assembly, you should be prepared to pay an extra $129. If you want a Bowflex protection plan, you will need to pay more for that.
Schwinn Cost
The Schwinn IC4 currently retails at $799, which means that it is cheaper than the C6 by $150. For that price, you also get free shipping, but you don't get a free mat. If you prefer in-home assembly, you will need to pay $129 and you will have to pay extra for a protection plan.
Financing is provided, and you won't have to pay any interest if you pay off the bike within 18 months.
If you're looking for the cheaper of these two bikes, then we'd recommend starting with the Schwinn IC4 – at last check you could save about $150 when compared to the Bowflex:
Detailed Look at the Bowflex C6
The Bowflex C6 (read our C6 testimonial) has all the modern features you can expect in a quality spin bike, but a price much lower than other popular bikes such as Peloton.
It even allows you to stream live workout classes on your smartphone or tablet and syncs up with your devices via Bluetooth.
Features
Bluetooth Ready
Dual-Link Pedals with Built-in Cages
100 Micro-Adjustable Levels of Resistance
Magnetic Resistance
Connects with some of the most popular fitness apps i.e. Peloton, Zwift, etc.
Syncs with the Heart Rate Armband Monitor
Tablet Rack for streaming live and on-demand workouts
Backlit LCD Metric Console
Very Quiet and Smooth Ride
Comes with a Pair of 3 lb. Dumbbells
The Bowflex C6 is truly a modern spin bike with the features you would expect from the company.
It is truly a great option if you a looking for a bike that has the features and functionality of more expensive bikes such as Peloton, but at an affordable price.
Detailed Look at the Schwinn IC4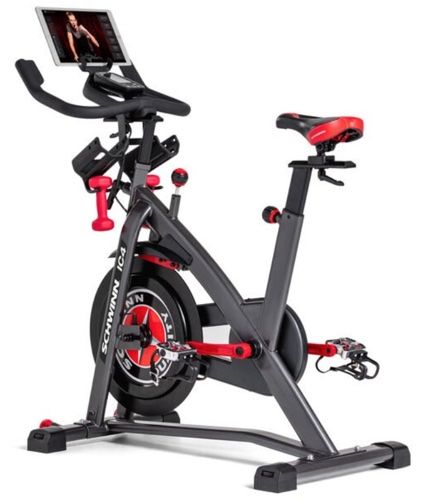 The Schwinn IC4 is a medium-priced modern spin bike with numerous impressive features to offer. The Schwinn brand has earned a reputation for producing high-quality bikes and the IC4 is not an exception.
It is one of the best home exercise bikes from the brand.
Features
Race-Style Seat
Dual Water Bottle Holders
Tablet Holder
A pair of 3 lbs. Dumbbells Provided
Adjustable Handlebars and Seat
Compatible with many fitness apps such as Zwift, Peloton, etc.
Dual-Link Foot Pedals
Backlit LCD Monitor
100 Micro-Adjustable Resistance Levels
Bluetooth Connectivity
The Schwinn IC4 is truly one of the best exercise bikes that you can use at home. It can be used with an impressive selection of fitness apps raging from Zwift to Peloton to access both live and on-demand classes without having to spend too much money.
Summary: Which Bike Should You Buy?
The Schwinn IC4 and Bowflex C6 are essentially the same bike, which means that the 2 key factors that you will want to consider when making your purchase are the price and financing options.
The IC4 is cheaper than the C6 by $150, which is why it is the model that most customers will prefer.
It is, however, important to look at the financing options for both bikes before you make a commitment. You can get a lower monthly payment if you choose the C6 and it could even be the better option for you even though you will be spending more in the long-run.
You will also want to keep your eyes peeled for any sales or discounts. If you have the opportunity to get either bike at a lower price, it is something you will want to take advantage of.
Best of all, discounts and sales are offered throughout the year.
The IC4 and C6 were both designed to provide people with excellent workouts at home without breaking the bank. If you find the hefty price tag attached to the Peloton offensive, but still want to get a great workout at home, both bikes are worth considering.
Overall, the Schwinn IC4 emerges as the winner since it is essentially the same as the C6, but $150 cheaper.
Additional Information