Affiliate disclosure: To help keep our content free we may earn a commission when you click links on our site and make a purchase.
Indoor exercise bikes are not something new, but they are currently enjoying massive popularity with more and more folks wanting an incredible experience at home.
Today's exercise bikes are smarter, connected to the internet, and even offer live and on demand classes. Peloton is one of the leading exercise bike brands. It is one of the best indoor exercise bikes currently available since it offers an impressive list of features.
However, it has its own share of shortcomings, with the biggest one perhaps being that it is quite expensive.
People usually invest in a indoor cycling smart bikes to help them sweat it with workout classes out at home and while they might love the idea of Peloton, they might not have the budget for it. Fortunately, there are cheaper alternatives to the Peloton
Top 5 Peloton Bike Alternatives for 2020
Echelon EX5s
Bowflex C6
NordicTrack s22i
Schwinn IC4
Cyclase
Peloton might be the leading smart bike brand, but it doesn't mean it is the only bike that's currently available. You can still find other equally good exercise bikes minus the hefty price tag associated with the Peloton.
Here are our Top 5 Peloton Alternatives:
1. Echelon EX5s Bike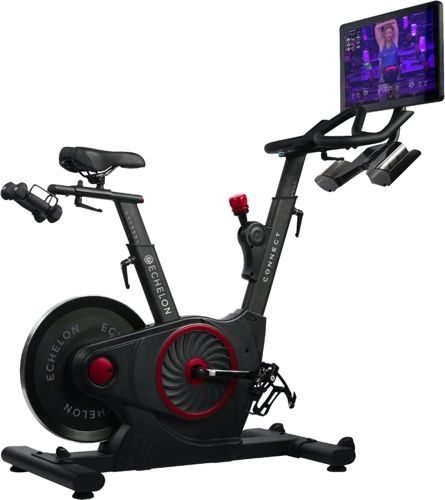 The Echelon Smart Connect (read our Echelon Bike review to learn more) EX5s is the option closes to the Peloton in almost all aspects. The overall design of this bike is strikingly similar to the Peloton.
The only key and noticeable difference between the two is that the Echelon Smart Connect has a rear flywheel. They also offer their own classes via their membership app.
Exercise Bike Features
32 levels of magnetic resistance
2 water bottle holders
Ergonomic design with an adjustable handlebar and seat
Mounted dumbbell holders behind the seat
Pedals are double-sided (A caged side for regular shoes and the other side for SPD cleated cycling shoes)
Bluetooth compatible
Weighs 105 pounds
Footprint: 3 Feet 5 Inches by 1 Foot 10 Inches
Large HD Screen
Echelon provides access to live spin classes and instructors as well as free scenic rides, and huge library of on demand workouts (membership required).
Why is the Echelon Our Top Peloton Alternative?
The Echelon EX5s is our top Peloton alternative since it is the one most similar to the Peloton in many aspects. The Echelon Smart Connect EX5s offers a workout experience that's quite similar to that offered by Peloton, and is a great indoor cycling option for home.
Echelon even has a live workout class app that you can find on both the Google Play Store and the Apple App Store. Stream live classes or access their on demand library with active membership, for an incredible workout experience.
You get all of that, for a very affordable cost when compared to some of the other bikes on our list.
Pricing Options
The Echelon Smart Connect EX5s starts at $1,640 and goes up to $2,200, but you can still buy it for less depending on the time of year.
Financing is also available depending on the option that you choose.
App requires additional membership cost.
Where to Buy
If you wish to get your own Echelon Smart Connect EX5s, you should consider buying it from the official Echelon website, where you can see their full line of bikes and fitness equipment.
They currently offering a generous financing packaging, as well as a 30-day trial of their bikes.
2. Bowflex C6 Exercise Bike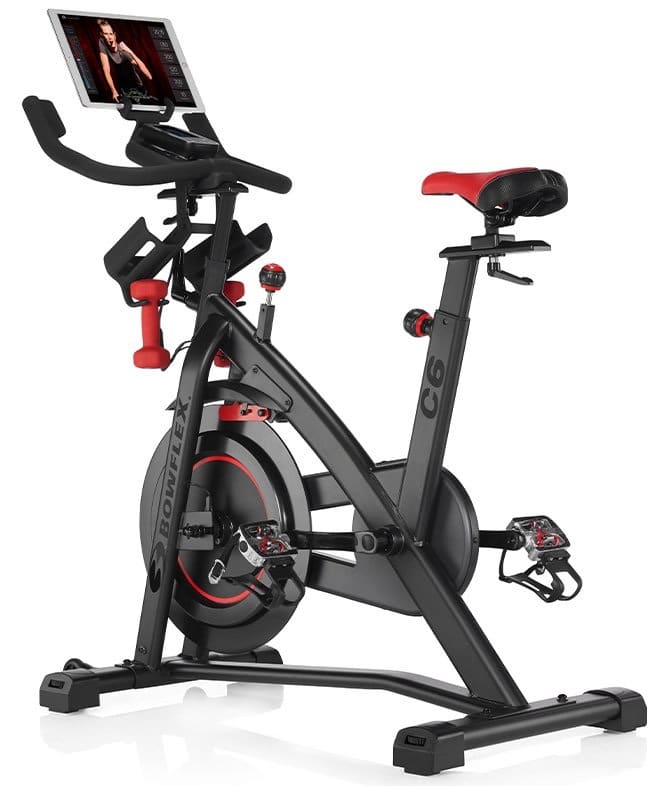 The Bowflex C6 bike is one of the latest entrants into the spin bike market and is an excellent cheaper alternative to the Peloton.
The great part is that it works with the Peloton app, which means that you can stream Peloton classes and workouts and learn from their instructors.
Features
Magnetic resistance with 100 micro-adjustable levels of resistance
Small footprint, which makes it excellent for smaller spaces
Doesn't come with a built-in screen, which means that you will need your own tablet to use the apps it is compatible with
Tracks your heart rate
Dual link pedals with toe cages
Bluetooth compatible
Works with an impressive selection of workout apps, including Peloton. Membership required for full access.
The Bowflex C6 might be a cheaper alternative to the Peloton bikes, but it does not mean that the manufacturer has sacrificed on features or even quality.
Their bikes still feature the latest technology and a high-quality build. There isn't a built-in screen, so a device will be required for a live workout experience.
Fitness Apps Compatible with Bowflex C6 Bike
The Bowflex C6 bike is compatible with the following fitness apps (membership and screen required):
Google Fit
Peloton
Apple Health
Sufferfest
Tacx
Strava
MyFitnessPal
FulGaz
Rouvy
Under Armour Record
TrainerRoad
Zwift
Pricing
The Bowflex C6 is currently sold for $949. Membership and screen will also be required.
Where to Buy
The Bowflex bike is rather new, which is why the one place that you can buy one is the official Bowflex website.
3. NordicTrack S22i Bike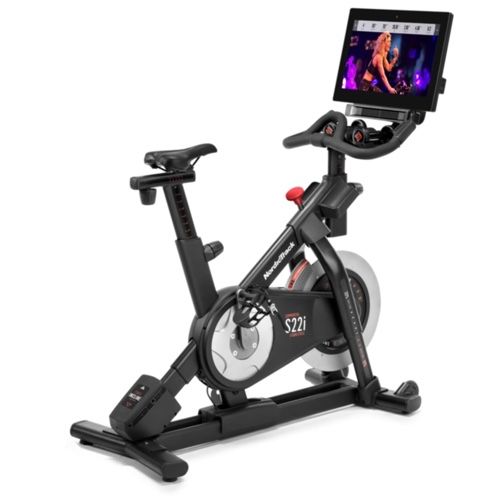 The NordicTrack S22i is a commercial grade exercise bike that features many of the things that you would ever want with streaming workout classes.
The most prominent feature of this bike that compares to the Peloton is the inclusion of a 22-inch HD Touchscreen display that's attached to the frame. The screen is used to stream iFit for your workouts.
While iFit is a great feature, it doesn't currently offer live classes.
Features
One 22-inch touchscreen display
2 water bottle holders
Fan included to keep you cool while you work out
On-demand and live classes provided via iFit coach: Amazing workouts
Adjustable handlebar and seat
Two 3-pound dumbbells included
Live decline and incline control
24 resistance levels
Its footprint is 55-inches (length) x 21.9-inches (width) x 54.8-inches (height)
The NordicTrack S22i has an impressive incline and decline feature that allows you to adjust the incline levels electronically.
You can raise the incline level by 20 percent or decrease it by 10 percent.
Your class instructor can even control the levels without the need for you to do everything.
The bike also inclines or declines automatically while you do virtual rides and matches resistance to the current riding terrain.
Streaming Workout Experience
The NordicTrack S22i allows you to steam workouts through the iFit coach app.
iFit by NordicTrack currently has a membership of over 1,000,000 users.
iFit allows users to participate in live classes, add friends, create challenges, and trach their progress over time. You can even add up to 4 profiles for different people that will be using it.
Price
The NordicTrack S22i is currently priced at $1,999, which includes a 1-year membership to iFit.
Financing options are also available, and free Prime shipping is an option when purchased via Amazon. Learn more below:
Where to Buy
If you wish to get your own NordicTrack S22i, you should visit the official NordicTrack website or even online retailers such as Amazon.
4. Schwinn IC4 Bike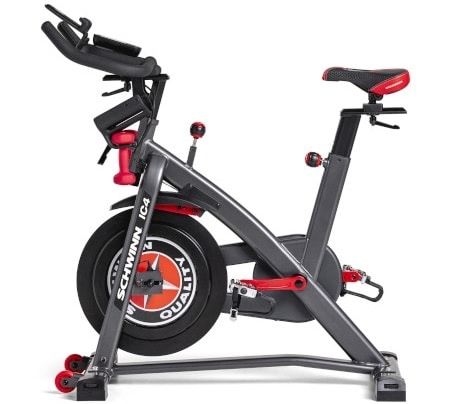 The Schwinn IC4 is an excellent exercise bike if you want the Peloton experience without the high price associated with it.
The IC4 is an incredibly versatile bike that caters to a wide range of fitness levels. It lets you customize your ride in different ways.
It lets you bring immersive and interactive spin classes right into the comfort of your home.
Features
USB charging station
Compatible with popular app workouts
Smooth, magnetic resistance that ensures a smooth, quiet ride
Full-color backlit LCD display that tracks your distance, time, calories, and RPMs
Heart rate monitoring with the provided armband
3-pound dumbbells with easy-reach cradles
Premium grip handlebars that ensure that you stay comfortable during intense or long rides
Integrated device holder guaranteed to keep you engaged throughout the workout
Bluetooth connectivity designed to work with popular cycling apps
Dual water bottle holders
Horizontal and vertical adjustment of the handlebars and seat
Designed to Use with the Peloton App
The Schwinn IC4 works with the Peloton App, Zwift app, among many others, which allows you to stream spin classes right from the comfort of your home.
You can also compete against other users.
You even have access to Explore the World, which is an app that allows you to experience a world of exotic locales, virtual races, and stunning trails from all around the world.
Price
The Schwinn IC4 currently retails for about $799, but only if you buy from the official manufacturer's website.
If you buy it elsewhere, the price might not necessarily be the same.
Where to Buy
If you want to get the best price for your Schwinn IC4, you should make your purchase from the official website.
Otherwise, you risk buying it for a considerably higher price if you purchase it at a different website.
5. Cyclase Exercise Bike
The Cyclase Exercise Bike is an affordable indoor exercise bike that has all the essentials for a satisfying workout at home, which is why it is such a great Peloton alternative.
It features a 36-pound flywheel and a belt drive system for a quieter and more accurate ride.
Adjusting the resistance is as easy as turning the resistance knob as needed.
Cyclase Exercise Bike is designed primarily for home use. It is a great trainer for all kinds of spin workouts, stamina development, toning of muscles, as well as weight loss.
Features
2-way adjustable handlebars
4-way adjustable seat
It has a fitness meter that tracks your speed, calories, distance, time, etc.
It has a 1-year limited warranty
Belt drive
Pedals with toe cages
Supports weight of up to 330 pounds
The frame of the Cyclase Exercise Bike is durable with a multi-layer design for protecting against rust.
The handlebars can be adjusted in 2 ways, while the seat can be adjusted in 4 ways to fit riders of different sizes.
It also includes a fitness meter with goal settings for distance, time, and calories burned.
The Cyclase Exercise Bike comes equipped with a large, cushioned seat, friction resistance system, and multi-grip handlebar. It has a heavy-duty construction and is capable of holding users weighing up to 330 pounds.
Other impressive features of the Cyclase Exercise Bike include the multi-function monitor and built-in tablet/smartphone holder. It also has cage pedals and built-in wheels to allow for easy movement of the bike when necessary.
Can It Be Used with Other Fitness Apps?
Cyclase Exercise Bike comes with a built-in tablet holder and since you provide your own tablet you can use just about any fitness app and on-demand streaming class available.
However, you shouldn't expect the deep level of integration that some of the Peloton alternatives discussed above can provide.
Price
The Cyclase Exercise bike currently retails for about $298. However, please note that this price may vary depending on the time of year you buy and where you but it.
Where to Buy
The Cyclase Exercise Bike is currently available on Amazon for the price listed above.
Summary
Peloton has essentially set the standard when it comes to smart indoor biking solutions in recent years. Unfortunately, the Peloton is priced beyond the reach of many people. That said, if it fits your budget, it's definitely worth considering.
On the flip side, if you still want to get a decent workout without having to spend to much, you should first consider the Echelon EX5s or any of the other Peloton alternatives listed here.