Affiliate disclosure: To help keep our content free we may earn a commission when you click links on our site and make a purchase.
Using a fitness mirror is wonderful, but which one is worth buying?
The market is currently flooded with unique options and each one promises to be a wonderful addition to your home.
For those sitting on the fence, the fitness mirror has increased in popularity and has now become a "must-have" solution for home gym workouts. Keeping this in mind, it's time to compare two of the market leaders in this niche – Echelon Reflect and MIRROR.
This comparison is going to take a detailed look at both fitness mirrors, compare features, and come up with a verdict on which is one is the better investment.
Echelon Reflect: An Overview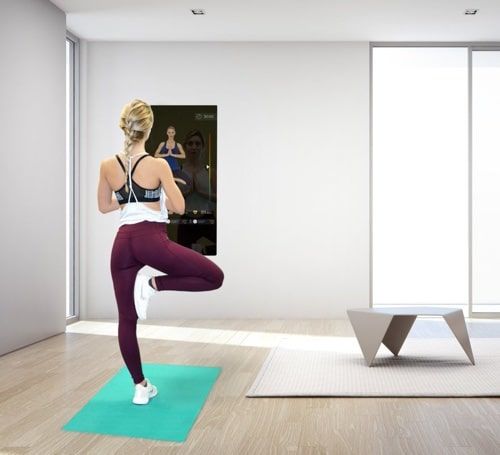 The Echelon Reflect (read review) is a heralded fitness mirror that has gained critical acclaim in recent years for its new-age design. Whether it's the sleek build quality, touchscreen capability, or general selection of workouts, everything about the fitness mirror has been praised greatly. This mirror comes in two models (40″ and 50″) while providing access to a membership plan and fully integrated app.
Features
1. Heart-Track Technology
To empower users during their workouts, the Echelon Reflect series provides access to a built-in heart-track setup. This ensures users can keep tabs on their heart rate at all times during the workout session. This can help pace your session better and make sure the heart rate doesn't fluctuate dramatically leading to heightened fatigue.
The charm of this heart-track technology is seen through its integration with the fitness mirror. Everything is displayed through the app and display making it easier to react when it comes to a user's heart rate.
2. On-Demand Classes
Whether it is boxing, barre, or a general cardio session, there is nothing better than being able to toggle through different "on-demand" classes using the fitness mirror. Echelon's team has taken the time to develop some of the most well-rounded and diverse set of on-demand classes for users to enjoy while working out hard at home. These on-demand classes are constructed and laid out with specific fitness goals in mind and are run by some of the world's finest fitness instructors.
3. Live Streaming
Want to join in on a workout that is happening right at this moment?
Some users prefer joining in while an instructor is moving through different exercises live. Keeping this in mind, the Echelon Reflect series offers access to a slew of unique live workouts that are ideal when learning on the go. This makes it easier to get started, join in, and continue to push towards personal goals while learning from the best.
Where to Buy
To purchase the Echelon Reflect fitness mirror, visit the official website.
The brand offers a wonderful catalog of products including the Echelon Reflect models (40″ and 50″). Feel free to explore the online shop, read through the different features, and invest in something that's going to be a game-changer.
To make the purchase easier on buyers, Echelon offers free shipping and financing options depending on what works best for you. This is a wonderful opportunity to get your hands on an exceptional fitness mirror while getting a good deal.
2. MIRROR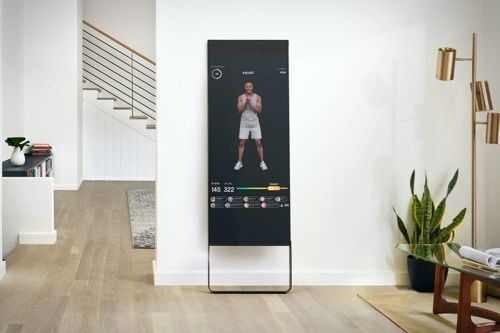 The MIRROR home gym is right up there with the best when it comes to fitness mirrors and continues to set the standard when it comes to a user-friendly setup and eye-catching aesthetics. This is a well-noted fitness mirror that has a slew of software features and is designed to make working out at home as easy as possible. It comes in a simple 40″ model that is simple to use and works in unison with a user's mobile device once turned on.
This fitness mirror has been designed to build something safe, user-friendly, and ideal for different types of workouts.
Features
1. 10,000+ On-Demand Classes
It starts with the incredible variety when it comes to the MIRROR and its on-demand classes. The team behind this fitness mirror continues to add to the selection with each passing day and make it easier than ever before to find the right workout at home. With over 10,000 on-demand classes available using the fitness mirror, it's easy to find something that's perfect for your fitness needs.
2. 1-on-1 Personal Training
Want to learn from the best while using the MIRROR? This is possible because the MIRROR provides access to top-tier fitness instructors that are ready to assist users through 1-on-1 training sessions. This is possible for members that are subscribed to the monthly plan. Having the opportunity to learn from reputable fitness instructors from the comfort of your home is what makes this such an intriguing fitness mirror.
3. 70+ Weekly Live Classes
The MIRROR home gym is built on the shoulders of its weekly live classes and there are several of them running throughout the week. These live classes are hosted by top-tier fitness instructors that are specialists and understand what is needed to meet your fitness goals. Simply turn on the MIRROR, toggle through the live-streaming classes, and pick the one that suits your requirements right away. The simplicity and quality of these weekly live classes are what draws users in while working out.
Where to Buy
To purchase the MIRROR home gym, please visit https://www.mirror.co/shop/mirror. This is a one-stop online catalog for those wanting a glimpse of what this fitness mirror has to offer, how it's priced, and what's available in terms of additional benefits.
MIRROR also provides financing plans for those wanting to get their hands on a new fitness mirror while being financially prudent. This is a brand that takes care of its buyers and ensures different options are presented to them through the online shop.
Please note, this is currently the only way to purchase a MIRROR home gym online.
Price Comparison: Is MIRROR or Reflect Cheaper?
Reflect 40
Reflect 40 + Monthly Subscription = $1,039.98 + Paid Shipping ($99)
Reflect 40 + 1-Year Subscription = $1,399.98 + Free Shipping
Reflect 40 + 2-Year Subscription = $,1599.98 + Free Shipping
Reflect 50″ (Touchscreen Model)
Reflect 50 + Monthly Subscription = $1,639.98 + Paid Shipping ($99)
Reflect 50 + 1-Year Subscription = $1,999.98 + Free Shipping
Reflect 50 + 2-Year Subscription = $2,199.98 + Free Shipping
MIRROR Price
MIRROR Home Gym = $1,495.00 + Monthly Subscription ($39) + Free Shipping
Workout Comparison
1. Echelon Reflect
The Echelon Reflect series offers a wonderful selection of live and on-demand workouts to choose from. These workouts are tailor-made to suit specific fitness goals depending on what a user is hoping to get from the session.
These workouts include:
Boxing
Core
Cardio
Meditation
Stretching
Pilates
Strength
Yoga
Tone
Barre
Zumba
And More
2. MIRROR Home Gym
The MIRROR home gym offers a fascinating catalog of workouts that can easily be selected using the integrated app. This allows users to pick and choose what works best for them and their fitness-related goals.
These workouts include:
Meditation
Arms + Abs
Kettlebell
Competitive
Boxing
Yoga Flow
Bootcamp
Barre
Cardio + Strength
Kickboxing
Pre + Postnatal
Family Fun
Pilates
Dance Cardio
Stretch
And More
Touchscreen Options
A major differentiator when it comes to the Echelon Reflect series and MIRROR home gym has to do with the touchscreen capability. Among all of the fitness mirrors being sold right now, only one model offers a complete touchscreen experience. This model is none other than the Echelon Reflect 50″ fitness mirror.
As of right now, the brand provides access to the 40″ model and 50″ model (with a touchscreen). For the 40″ model (Reflect 40), there is an app integrated into the experience to toggle through different settings and programs. The same applies to the MIRROR home gym as they only sell one model and it doesn't have touchscreen capabilities.
For those eager to have multiple options (i.e. app + touchscreen), it's highly recommended to take a deeper look at the Reflect 50 fitness mirror.
The Winner?
Echelon Reflect is a market-leading option for several reasons. It's unique, offers a beautiful touchscreen model, and has a slew of features that leaves users pleased with their workout session. Whether it's the live workouts or the pre-recorded options, everything about this fitness mirror is picture-perfect.
It is one of those new-age solutions that are a sleek, well-designed fit and will work wonders right away.
While the MIRROR home gym is unique and offers a range of advantages, it still comes up short in front of the Echelon Reflect. Being able to choose between different models and price points is essential for those wanting to customize their experience. Rather than being forced into buying the MIRROR home gym, it's easier to choose between the Echelon Reflect models based on your budget and fitness requirements.
When it comes to a must-buy in the fitness world, you will want to keep an eye out for the Echelon Reflect. This is a world-class, easy to use fitness mirror that has all the perks needed to impress.
Extra Info