Affiliate disclosure: To help keep our content free we may earn a commission when you click links on our site and make a purchase.
In recent years, the market has been growing rapidly with more and more new-age exercise bikes being released.
However, two brands have stood out and make a name for themselves: Schwinn and Peloton.
Users have become used to the convenience of working out at home without compromising on quality. With a fascinating catalog of live-streamed and on-demand content, modern exercise bikes are a must-have piece of gym equipment.
While the Peloton offers a wonderful set of features, it comes at a much higher price tag than some of its contemporaries including Schwinn IC4.
This detailed comparison is going to showcase the merits of both exercise bikes and which one is right for your needs.
Price Comparison: Which Bike is the Better Price?
Peloton: Starts at $1,895 – they recently announced a new plus line of bikes and treads, which helped bring the price down for their standard bike.
Schwinn IC4: $799 + Fitness App Subscription if You Want Live + On Demand Workouts
There is a significant difference in prices between the two exercise bikes. It's important to note, a membership fee can be added to the Schwinn IC4 if you wish to sign up for the Peloton app and use its live-streamed content.
While this isn't mandatory, it's still something to keep in mind when investing in the exercise bike.
Our top pick for the more affordable bike? We'd suggest starting with Schwinn if you're trying to save the most money:
Live & On-Demand Workout Comparison
Both the Schwinn IC4 and Peloton exercise bikes offer a wonderful catalog of workouts. These workouts are offered using the Peloton app. While the Peloton bike is well-integrated with its app, the Schwinn IC4 is a solid choice as long as you sign up for the membership program.
It's important to note, the live-streamed workouts are for all types of riders including beginners and experienced professionals.
While both provide access to Peloton's massive library of content, the Schwinn IC4 cannot integrate the app's videos onto the display. This means you have to stream everything onto a TV or tablet, which is another cost to consider.
Based on this difference, Peloton takes the victory here and stands out when it comes to app integration and access to workout content. If you want the full "Peloton Experience" then you'll want to go with the Peloton. If you opt for the Schwinn, you can still use the Peloton app, but with limited features.
Schwinn IC4: Overview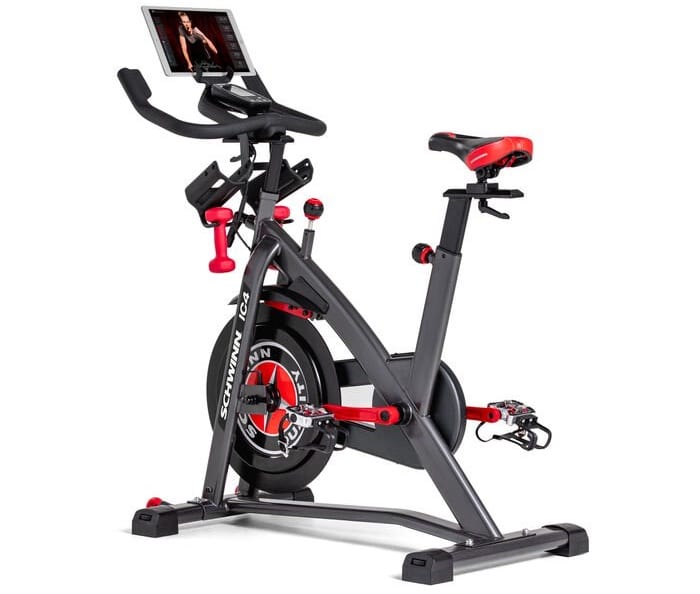 The Schwinn IC4 exercise bike is all about affordability, efficiency, and quality. This bike is a compact, well-designed option that is ideal for modern home gyms without being overwhelming.
Whether it is the charming build or the empowering resistance levels, everything about this bike is going to help a rider achieve their fitness goals.
Key Features
1. 40-Pound Flywheel Drive
The heart of any new-age exercise bike is seen through its drive and the same applies to the Schwinn IC4. In general, this is a powerful 40-pound flywheel drive that offers a smooth, quiet ride in all situations.
For those wanting a good amount of power throughout the workout session at an affordable price point, it's best to take a look at what this exercise bike brings to the table.
2. Dual-Link Pedals
Once you are ready to use the bike, it is the dual-link pedals that are going to be noticeable right away. These pedals are uniquely designed, compact, and offer complete versatility during a strenuous workout session.
These pedals offer:
Comfortable
Dynamic
Ergonomic
Designed to Offer Comprehensive Support
When it comes to feeling good about your workouts on an exercise bike, it's these high-traction pedals that offer complete mobility. It's ideal for those wanting to feel confident about their time spent on the bike.
3. Bluetooth Connectivity
The Schwinn IC4 exercise bike is well-equipped to handle modern technological demands including Bluetooth technology. In a matter of seconds, you can connect your device to the bike and control it through there.
4. 100 Levels of Resistance
Being able to get more out of an exercise bike always comes down to the amount of resistance on offer. Instead of providing 8-10 resistance levels and letting users play around with the settings, Schwinn goes the extra mile with its machine.
It comes equipped with up to 100 micro levels of resistance allowing users the ability to fully customize the session.
The resistance levels also offer:
Complete Control
On the Go Adjustments
Smooth Transitions
Each rider has a unique set of goals when it comes to getting stronger and fitter using an exercise bike. In this case, the bike's resistance settings are seamless and feel as efficient as they need to be.
Can it Be Used With the Peloton App?
Yes, the Schwinn IC4 exercise bike can be used with the Peloton app, however, there is a slight hurdle to deal with first. It can only be used with the help of a smart TV and/or tablet.
If you don't have access to one of those two electronics close to your bike, you won't be able to use the Peloton app.
Who Should Buy an IC4?
The Schwinn IC4 is a masterpiece when it comes to new-age exercise bikes and offers a compact solution at an affordable price point. This is a great option for anyone that is on a tight budget and doesn't want to sell for a below-par exercise bike.
By going with this bike, you are going to get the best of both worlds and that's essential with an investment such as this.
This exercise bike is built to last, looks the part, and is going to sync nicely with the Peloton App. As a result, anyone that wants a respectable machine for their home gym can put this on their list.
Where to Buy
For those looking to put their hard-earned money into the Schwinn IC4 and make it a part of their home gym, it's best to visit their official website for more information.
Peloton: Overview
The Peloton exercise bike is one of the most well-established brands in the world when it comes to fitness. It has grown in stature with each year and offers a slew of features including a high-end touchscreen, top-quality resistance settings, and a state-of-the-art app filled with valuable content for the members to enjoy.
Features
1. 21.5" Touch Screen
The first thing a person notice is the large display that sits at the front of the exercise bike. Peloton is heralded for its interactive, well-designed display that is perfect for long workout sessions at home.
This touch screen integrates perfectly with the company's in-house membership app making it a power-packed combination for riders.
2. Welded Steel Frame
Durability is a major part of what makes the Peloton such a unique offer in the fitness world. Their attention to detail is impeccable and that is seen through the fascinating welded steel frame.
The steel frame offers:
Increased Durability
Heightened Aesthetics
Minimal Rattling and/or Shaking
Having this level of reliability is essential over the long-term and is one of the main reasons why the Peloton does well.
3. Full Integration with Peloton App
The Peloton app is a big reason for the company's success and why it continues to empower thousands of riders. While it is pricey, it does come equipped with loads of quality content to help riders achieve their goals.
4. Adjustable Saddle and Handlebars
Want to make sure the body isn't under stress in the middle of a workout? This is where the Peloton's versatile and adjustable handlebars go a long way in creating an ergonomic foundation for you.
These handlebars offer:
Complete Adjustments
Refined Grip
Comprehensive Durability
These handlebars are easy-going, efficient, and in line with what a rider requires as soon as they sit down.
Live & On-Demand Workouts
The Peloton is heralded for its impressive membership program, which syncs with the bike and works like a charm. In general, once the app has been downloaded, it can be integrated directly onto the touch screen making it a joy to use throughout the workout session.
Users get to go through a boatload of workout sessions taught by trusted Peloton instructors with years of experience.
These workouts are comprehensive, demanding, and are accessible around the clock. Simply hop on and get started with your workout routine in seconds.
New Plus Models Create Total Package
Peloton's new Plus line of bikes and treads takes their experience to another level. With a rotating screen, you can now take your workouts beyond the bike or treadmill, for a full intreated experience.
Who Should Buy a Peloton?
The Peloton should be purchased by someone with an ample budget when it comes to building a full-fledged home gym. Since it offers a slew of unique features and is all about integrating the Peloton app, it's a unique option for those wanting to splurge, and those who want the very best at the same time.
While it may be overpriced for some, it still offers a good number of positives for those wishing to purchase a brand-new exercise bike, and is one of the best in the business when it comes to live and on demand workouts.
Where to Buy
It's recommended to buy the Peloton through the company's official website. This will ensure you get a great deal on the product and can easily sign up for the membership program.
Summary: Our Winner is…
Both the Schwinn IC4 and Peloton exercise bikes offer a long list of cutting-edge features. They are well-built, easy to use, and can change the dynamics of your fitness journey at home.
Honestly, either option can be great, you'll just have to decide which one best meets your fitness needs and budget.
For those in search of a budget-friendly deal, we'd start with the Schwinn IC4 as it is packed with good features while being easy on the wallet.
Plus, you can easily use it with the Peloton app and get most of the benefits associated with live-streamed fitness content.