Affiliate disclosure: To help keep our content free we may earn a commission when you click links on our site and make a purchase.
Home gyms have grown in popularity in recent years especially among both fitness enthusiasts and serious athletes. If you are a fitness enthusiast yourself, you probably have a variety of cardio equipment to choose from. When it comes to the best equipment for cardio workouts, however, it is nearly impossible to beat the Bowflex Max Trainer Series.
The machines under the Bowflex Max Trainer Series are incredibly similar to elliptical machines but offer a more upward step movement.
In fact, the manufacturer, Bowflex, describes them as a cross between an elliptical trainer and a stair stepper. The Max Trainer Series are designed to be used for High Intensity Interval Training, but they can still be used for general aerobics.
Fans of the Bowflex Max Trainer Series Machine love their ability to provide a full-speed, low-impact, High Intensity Interval Training style of workout.
The Max Trainer Series combines the motion of the elliptical machine thus helping to eliminate much of the joint and tendon stress usually associated with high-intensity cardio workouts.
Meet the Bowflex Max Trainer M9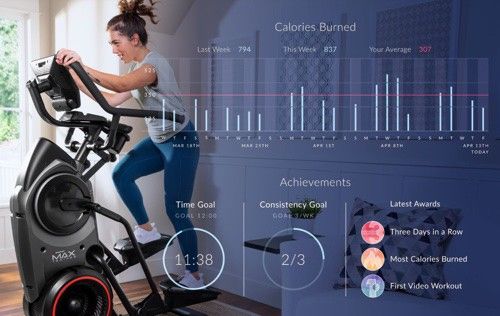 The Bowflex Max Trainer M9 is the latest and most technologically advanced model in the Bowflex Max Trainer series of machines. It replaces the previous Bowflex Max Trainer M8 that was released not too long ago.
The Max Trainer M9 adds to the mix a large HD touch screen display and unlimited workout options courtesy of Bowflex JRNY.
Key Features and Highlights
Let's look at the key features and highlights of the Bowflex Max Trainer M9:
10-Inch HD Touchscreen Display
The M9 comes with a massive touchscreen display that makes it easy for you to make your selection, see all your metrics, and be entertained during workouts. It also works well with the JRNY app.
The M9 also lets you enjoy the on-demand classes courtesy of JRNY, which is a fitness streaming app by Bowflex that costs $19.99 per month. While signing up for the service is optional, it is impossible to access most of the features if you don't have a subscription.
The M9 comes with several built-in entertainment apps for you to enjoy while you work out, which include Amazon Prime, Netflix, Disney+, Hulu, but you must have your own subscription to each.
The M9 comes with a free heart rate armband as well as heart rate hand grips that let you accurately measure your heart rate via Bluetooth, which isn't offered with other elliptical machines. The advanced heart rate monitoring helps keep you in your ideal zone throughout your workout to ensure maximum cardio benefits.
The Max Trainer M9 has 4 built-in workout programs, which include fat burn, manual, stairs, and calorie burn. Furthermore, you get virtually unlimited workouts through JRNY that you can try for free for 2 months with your purchase.
The multi-grip design of the M9 allows users to adjust their hands while working out.
The Bowflex Max Trainer M9 offers 20 levels of resistance, generated by way of air and magnets, thus making for a workout that any level of user can enjoy. Novice users can advance into the upper fitness levels without the need to change equipment.
With the Max Trainer M9, you can charge up your devices using the USB charging port located behind the console.
The M9 allows you to listen to music from your tablet or phone wirelessly through the built-in Bluetooth speakers.
The JRNY app that perfectly pairs with the Max Trainer M9 lets you keep track of all your workout metrics as well as setting goals and seeing your personal bests.
The Bowflex M9 fit perfectly in just about any home and weighs just 148 pounds for easy transport.
It is a handy feature on the M9 that allows you to hold your water bottle during workouts.
What We Like Most About the M9
Here are some of the things that we love most about the Bowflex Max Trainer M9:
20 levels of magnetic and air resistance.
Interactive online fitness training courtesy of the JRNY fitness platform.
10-inch HD touchscreen display.
Compact size meaning it can fit well in most spaces.
Integrated heart rate monitors on the handlebars and a free Bluetooth Heart Rate armband provided with every purchase.
Weighs just 148 pounds when fully assembled.
Premium media rack for holding your tablets, phones, keys, etc.
Oversized and textured pedals.
4 individual grip handles that allow for the changing of hand positions during workouts.
Cons?
You must have a stable Internet connection to use the JRNY app.
Subscription to the JRNY app costs $19.99 monthly or $149 annually
The warranty provided is just 3 years for the parts and frame and 90-days warranty for labor, which is incredibly short, especially when compared to what is being offered by the competition.
JRNY Workout Platform and Streaming Options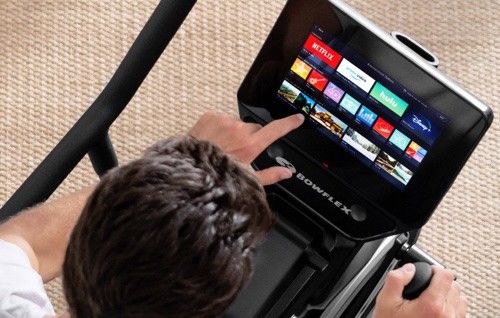 With each purchase of the Bowflex Max Trainer M9, you will enjoy a free trial of the JRNY Digital Fitness app. It is essentially a dynamic workout platform that can be accessed on various devices for remote workouts and analysis.
The JRNY workout platform comes complete with features such as fitness assessments, virtual workouts from all around the world, virtual coaching, workouts designed to adapt to your goals and performance, trainer-led videos.
The integrated 10-inch HD touchscreen display makes it much easier to use the JRNY platform, including making your selections and seeing your metrics while working out. It also functions incredibly well with displaying the virtual locations that can be accessed through JRNY.
Signing up for JRNY is optional, but the app will give you access to unlimited workouts as needed. The workouts are ideally instructor-led and custom made for you. You can be coached while you watch your preferred application. 4 basic workout programs are included in your purchase that you can access without first subscribing to the JRNY app.
YOU MAY ALSO LIKE: Max Trainer Comparison
The JRNY app lets you access up to 50+ picturesque paths from destinations throughout the globe, which can make it seem as though you are running in a lovely or exotic location. You can also keep track of your workout metrics as well as your established objectives. You can also check your heart rate by grabbing onto the handles or strapping-on the included Bluetooth armband.
The JRNY app also gives you access to a variety of built-in entertainment apps such as Netflix, Disney+, Amazon Prime Video, and Hulu so that you can enjoy watching your favorite shows while working out. However, it is important to note that you will need to have an individual subscription for each of these apps to enjoy access to content.
Size ad Specs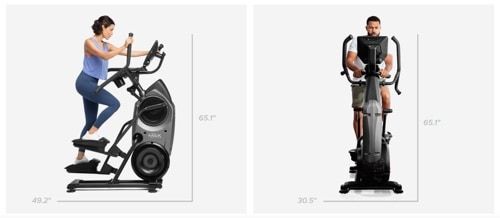 One of the most compelling aspects of the Bowflex Max Trainer M9 is just how portable it is. Unlike an elliptical trainer or a treadmill that takes up lots of room, the M9 does not take up much space, which makes it ideal for apartments and smaller homes.
The M9 has a compact frame at 49.3 inches x 30.5 inches x 65.1 inches and weighs 148 pounds fully assembled. In terms of ceiling elevation, Bowflex recommends a ceiling elevation of 15 inches to avoid any form of head injuries.
Price
Pricing for the Bowflex Max Trainer M9 starts at $1,999, which can be considered a bargain given what is being actually offered. The M9 might not have the bells and whistles that you will find in the more expensive options from competitors, but it is still a reputable machine for its price and operational efficiency.
Warranty Options and Return Policy
Bowflex backs up the Max Trainer M9 with the following:
3-year warranty on the frame
3-year warranty on parts
90-day warranty on labor
Return Policy
If you are not completely satisfied with the purchase, all you have to do is get in touch with the company's customer service department within 6 weeks of delivery to get your Return Merchandise Authorization (RMA) number. The refund is less all shipping and handling costs.
Final Verdict
The Bowflex Max Trainer M9 is definitely one of our favorite cardio machines. It is not only more technologically advanced than its predecessor the M8, but also provides a very good workout to users of all levels.
We particularly love the new and improved features such as the massive 10-inch HD touchscreen display since it brings you closer to a health club experience, with unlimited workouts, workout tracking/sharing, and streaming capability all courtesy of the JRNY app.
Technology aside, the M9 is well-built and is capable of delivering great workouts for the entire family, no matter the fitness level. We also love the extra-large pedals and multi-grip handles.
If you are looking for a cardio machine to buy that you will actually enjoy using, the Max Trainer M9 is highly recommended.