Affiliate disclosure: To help keep our content free we may earn a commission when you click links on our site and make a purchase.
Indoor rowing machines have become increasingly popular among fitness enthusiasts. After all, rowing machines not only active more muscles than a lot of other at-home gym equipment, but they can help you burn as many as 311 calories in just 30 minutes of exercise [1].
As more and more consumers demand more from there fitness equipment, more brands are dipping their toes in innovative features like connected experiences. Two brands that are pushing the envelope when it comes to connected rowers are NordicTrack and Hydrow. Each of these brands offers its own connected rowing machine with a lot to like.
The hardest part about spending the money on a rower comes down to picking the right machine. After all, you will be spending a lot no matter which one you go for. Therefore, you want to be certain you are making a well-informed decision.
By the end of this comparison, you should have a good feel for which rower will provide you with the best all-around experience.
NordicTrack RW vs Hydrow: Models and Features Comparison
1. Hydrow Overview
Hydrow Rower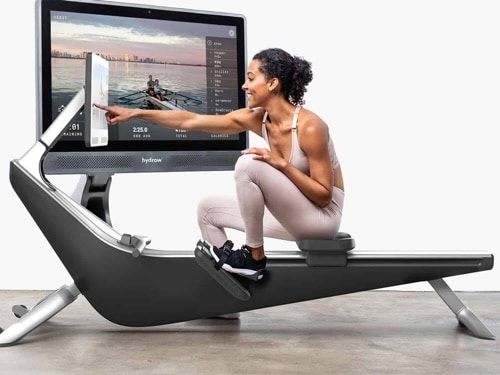 Hydrow offers a single model to choose from, but it's an incredibly well put together one that is packed with features. The Hydrow was designed through and through to provide one of the most immersive rowing experiences you will find in the marketplace. The Hydrow features an incredibly immersive (22-inch) touchscreen display with incredibly loud and clear front-facing speakers which can captivate you and really make you feel as if you are rowing directly on the water.
To make the experience even more immersive, the Hydrow features its patented drag mechanism which is electromagnetic and computer-controlled. Therefore, you will not only have visual and audible immersion, but you will feel as if you are rowing on water, as well.
This mechanism is not only incredibly immersive, but it is just as silent. With the purchase of an additional accessory, the machine can be stored upright for space-saving functionality.
NordicTrack RW Series (Best Comparison to Hydrow)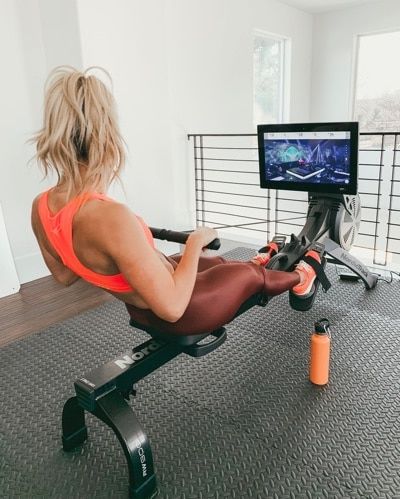 1. RW200
NordicTrack's RW200 is their budget model. This model features an inertia-enhanced flywheel and adjustable Silent Magnetic Resistance. The model offers 24 digital resistance levels. The unit features a SpaceSaver design and comes with 20 different preset workout apps. This rower packs in two (2-inch) digitally amplified speakers, an AUX port, Bluetooth Smart compatibility, and a backlit display.
2. RW500
This is NordicTrack's mid-range model and it features a built-in (10-inch) Portal 10i tablet for immersive workout experiences. As far as performance is concerned, it comes with two distinct forms of resistance including the digital Silent Magnetic Resistance and adjustable air resistance. There are 26 resistance levels to choose from. Best of all, the resistance can be auto controlled by your trainer. This can ensure you get to focus on your classes and performance rather than adjusting your resistance levels throughout your class. This model also comes with its SpaceSaver design.
3. RW900
This is NordicTrack's flagship rowing machine and it's priced as such. However, with the higher price, you get a fully integrated (22-inch) high definition touchscreen display. This alone can transport you from your living room to a live studio or even on the water halfway around the globe. For performance, this rower also features two distinct resistance options including Silent Magnetic Resistance and manual air resistance. There are 26 levels of resistance to choose from and this rower also features live resistance control to ensure your trainers can offer you an interactive workout. As with the other models, this one features NordicTrack's SpaceSaver design.
Check current NordicTrack models and prices at Amazon.
NordicTrack iFit Workouts vs Hydrow's Live and On Demand Platform
Hydrow Workouts
With Hydrow, you are getting one of the single most immersive workout experiences you will be able to have with any connected machine. Hydrow is able to immerse you in every sense of the word.
Live and On-Demand Workouts
For one, you will gain access to both live and on-demand workouts. Therefore, you will be able to participate in either live training sessions on-the-spot or on-demand workouts on your own time. Every live workout is recorded in order to ensure that you are able to row when you want.
You won't be limited to in-studio experiences or guided waterway workouts. With Hydrow, you will be taken on unguided rows through scenic waterways which can help you have the kind of experience you are looking for. This can help encourage you to explore and really enjoy your workouts to the fullest potential.
You won't be trained by people who don't know what they are doing. With Hydrow, you are getting access to real-life athletes. These are people who live on the water and who are just as good at being inspirational coaches. Being able to learn from professional and collegiate rowers can really turn your experiences up a notch and give you incredible value.
See all Hydrow workouts at their website.
With Hydrow, you are getting more than just rowing workouts. Instead, you are getting an entire library of workouts beyond rowing that you will be able to incorporate into your workouts. This can help you get total body workouts that can transform your body and help you attain your fitness goals. You will be able to access these workouts through Hydrow's app and you will have elite personal trainers guiding you through everything from yoga workouts to Pilates workouts and even strength training workouts.
NordicTrack Workouts via iFit
NordicTrack has done a great job with its iFit streaming platform. Their iFit app and platform are compatible with a large array of their connected workout equipment. While iFit offers live workouts on some of their connected workout equipment, you will only be able to experience on-demand workouts on their compatible rowing machines.
Live and On-Demand Workouts
As mentioned, NordicTrack's iFit offers on-demand studio workouts that will have you pumping with high energy. These classes are run by expert personal trainers. Best of all, NordicTrack's compatible rowers including the (RW900) and the (RW500) both feature live resistance control. Meaning, your trainer will be able to automatically adjust your resistance levels during your on-demand workouts for a fully interactive and immersive experience. This can make your experience even more immersive because you will be able to dedicate all of your attention to getting in the best workout possible rather than fiddling with the resistance levels.
You won't be limited to studio classes. Instead, you will be able to take your workouts to some of the most beautiful lakes and rivers you will find throughout the globe. This, combined with the integrated display of the rowing machines can provide a very immersive rowing experience.
You aren't only limited to rowing exercises when you sign up for iFit. Instead, you will be able to gain access to countless total body training exercises. With iFit, you can hop off your rowing machine and onto the mat to participate in various other workouts like cross-training and more.
See all NordicTrack workouts at Amazon.
User Ratings
NordicTrack's RW200 has a 4.6 out of 5-star iFit workout rating. The RW500 has a 4.7 out of 5 and the RW900 has a 4.7 out of 5-star rating. As you can tell, consumers of these rowing machines are not disappointed with their purchase.
Read more NordicTrack reviews at Amazon.
As of right now, Hydrow has a whopping 2,105 reviews on TrustPilot with a cumulative average of 4.8 out of 5 stars. Needless to say, consumers absolutely love the experience they are getting out of their Hydrow rowing machine.
Read More Hydrow reviews at their website.
Price: Is Hydrow or NordicTrack Cheaper?
NordicTrack RW200: $799
NordicTrack RW500: $999
NordicTrack RW900: $1,699
Hydrow: $2,199
Pricing Winner: NordicTrack (they offer budget models and a cheaper direct competitor)
Summary: Which is the Better Rower?
NordicTrack and Hydrow both offer incredibly value-packed connected rowing machines. If you are searching for the most affordable model and you don't necessarily care about having the best all-around experience, the NordicTrack RW series is an incredible offering.
However, for those who are able and willing to spend extra on the most premium experience, we're huge fans of the Hydrow.
You should opt for Hydrow if…
You are willing to pay for the best
You want both live and on-demand classes
You want the most immersive experience
You want one of the highest-rated rowers in the world
You should opt for NordicTrack if…
You are looking for a rowing machine on a budget
You want to pair it with NordicTrack's other awesome equipment options
You want a free 1-year iFit with your purchase
Check current NordicTrack models and prices at Amazon.
References