It's an epic and epically rambly show this week with a discussion of the Drenthe series of races. We also talk El Salvador, cyclocross and Clara's (Hughes that is) Big Ride. We ask you to weigh in on whether or not toasters are sexist. Sarah accuses Dan of being evil and we chat about Sarah's podcasting exploits, cycling themed cakes, team launches, cool videos, amateur dentistry and snakes that eat crocodiles! Basically this podcast contains all the news and information you need to get you through the week! It's a long one but we're pretty sure you're going to enjoy it, we sure did! (1:25:42 MIN / 82.73 MB)
To subscribe through the store of iTunes for free, click here.
Things we talked about included
DRENTHE WEEK!  We love springtime in the Netherlands!
If you only click on one link this week, make it this one – Chloe Hosking's race blog.  Seriously, the best rider/team report/analysis we've seen.
Is this Drenthe podium prize sexist?  We say no, especially because the men who raced on the same day got the same prizes, all provided by a local sponsor (and we explain more about this in the 'cast) but we've realised that in some parts of the USA there are cultural issues about giving away household goods, and especially toasters, that we'd never heard of in Europe and Australia.
Traditioneel veel prijzen @RondevDrenthe http://t.co/AjfIkPEAdh—
Harm Vonk (@HarmVonk) March 15, 2014
Sparking off these discussions, Ant McCrossan set up the weirdestraceprizes hashtag – check it out to see what people have won in cycling!  Lawn mowers, piglets, pressure washers, a dozen eggs, black pudding and Sarah's favourite, a sack of potatoes as an intermediate sprint prize…  we love cycling!
More Drenthe blogs
***
While we weren't bothered by the Drenthe podium prizes, this frustrated us – Bálint Hamvas of cyclephotos and CX journalist Dan Seaton made a rough estimate at how much women in cyclocross earn from podium prizes (not including start fees and sponsorship etc) – read how they worked it out, here
and then In The Crosshairs compared it to the men….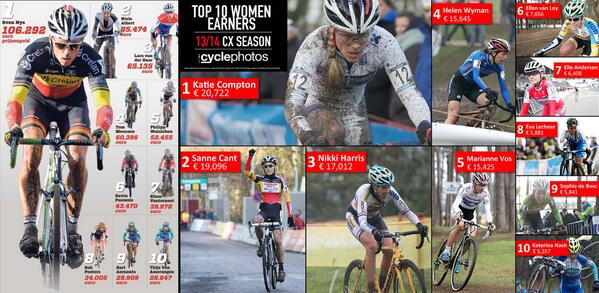 Bálint Hamvas, who runs cyclephotos, has another of his fantastic coffee table books available to order, about the 2013/14 Cyclocross season.  Pre-order it here, and read about how that project has evolved, it's really interesting.
***
If you want to support some cyclists, help the Afghan women's cycling team get to the Asia Continental Championships
***
Vuelta El Salvador
We are still shocked  by the terrible news about journalist David Diaz, who was killed in a helicopter crash while covering the race.
Here's the podium photo
***
MTB
We really liked this – a recap on what happened in last year's Eliminator World Cup.  It's the first time the UCI has run an XCE series, and Sarah loves the racing – 4 riders against each other, racing a short course to get to the final – but we especially love Alexandra Engen's delight at winning the season, despite losing a tooth.  If you want to see more, the Eliminators will be held as part of the Cross Country MTB World Cups.
More MTB – Welsh Downhill star Manon Carpenter, interviewed by wideopen magazine, British FourCross star Katy Curd on moving to downhill and enduro, on Total Women's Cycling, downhill in the sun on the French Riviera and in the rain at the 2014 Oceania DH Champs in New Zealand – and this photo of Junior Downhill World Champion Tahnée Seagrave.
***
British corner!
Our good friends Matrix-Vulpine had their team launch, and we especially loved Nikki's cake!
http://twitter.com/Nikkij51/status/444531066599387136
Check out this video from the team, featuring Jessie Walker, Melissa Lowther and Penny Rowson
Another team that launched this week was Shutt Velo Rapide Squadra Donne – read about it on their website, and on their rider Alice Cobb's blog
There were two race launches, too – the Women's Tour, and that's featured at the 20 min mark on local news programme, BBC Look East – and Sarah's really excited to be involved with the British National Road Championships.  The Abergavenny weekend of 28th & 29th June is going to be fantastic, with sportives on the Saturday and the women's and men's road races and a Para-cycling crit on the Sunday.  If you're in the UK, book it in your diary.  Here's a Becky James' video interview talking about the race being on her local roads, and a lot more, and videos about the courses:
And finally, last weekend was the final round of the Track Revolution series, in the London Velodrome.  If you want to watch it, here are video highlights – and here's a sequence of photos of Dani King's crash
***
Make sure you're following Clara Hughes' twitter on her adventures – and if you want to support the push to de-stigmatise mental health issues in Canada, here are some ways to help – including buying a jersey or T-shirt.  Our favourite picture of the week:
***
More videos!
I really liked Pedro Barcina's video covering the women's cycling news from February – it's in Spanish, with English subtitles.  Pedro's part of the fantastic team at Cobbles & Hills – and you can also follow their women's cycling twitter, Cobbles & Women
The race was a while ago, but here's a video from Wiggle Honda at the Ladies Tour of Qatar
***
If this podcast isn't enough for you, Sarah was on Clara Beard and Kyle Michael's Broken Spokes podcast – in two parts, because we all know she can't shut up!
***
Upcoming Races
On Sunday 23rd March, we have two races: