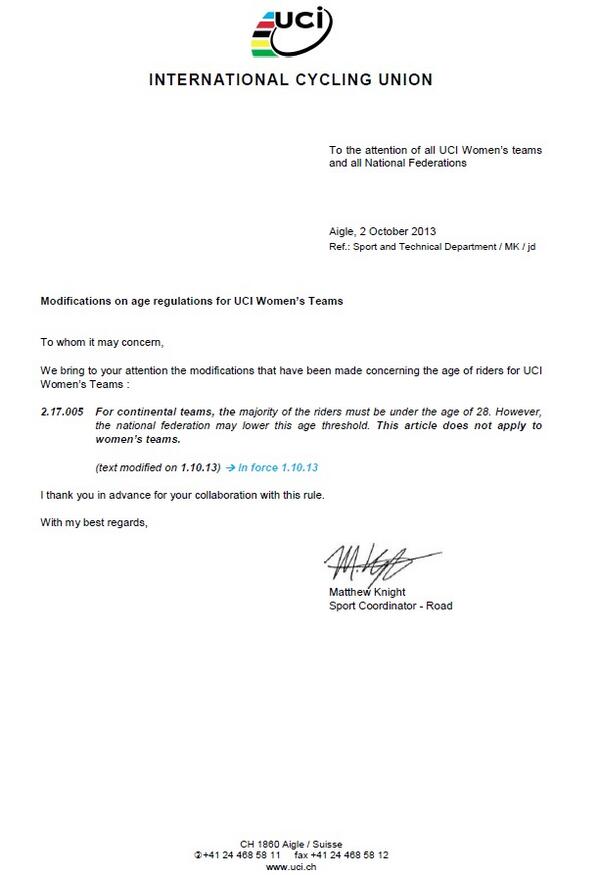 Brian Cookson became UCI President last week, and already we've got some change for women's cycling!
The age rule for women's teams was one of those frustrating ones that made no sense, and made things much harder for women's teams.  If you have a roster limited by money and numbers, and most of the riders have to be under 28, this obviously causes problems.  The women clearly don't peak at 28!  If they did, we wouldn't have riders like Giorgia Bronzini, Emma Johansson and Evelyn Stevens (all 30) around at the top of the sport.  And it's also important because a lot of women come into the sport "late" – they might have waited until they finished their education before getting into racing seriously, or started in other sports, and switched to cycling in their 30s, for example.
The rule was there because the women's teams are governed by the same rules as men's Continental teams.  It makes sense for the Euro-based Conti teams, because they're development squads, and good riders can "graduate" to Pro-Conti & World Tour teams – but there's only 1 level of women's teams, so there's nowhere to move to – except out of the sport.  It was a hugely frustrating rule, no one understood why the UCI clung to it, as riders and teams have been calling for this change for years.  It's a great sign that Brian Cookson really has been asking around for how to develop the sport.  Such a quick and easy win!
It's just a small start, of course, but it gives a huge amount of hope for the future, that maybe other things – the single layer of women's teams, the lack of a minimum wage, teams getting away with not paying riders, the lack of u23 road Worlds, the lack of ANY Para-Cycling World Cups or World Championships, etc etc – can change too.  Some of those are easier than others, and I don't expect them all to change immediately, but isn't it easier to believe things are moving behind the scenes when you can see signs that things are happening?
Here are some more of the things I'd change – what would you do?
Thanks to Karl Lima for sharing the letter!