Hi everyone! This week Sarah and I catch up on the Route de France, Junior Track Worlds in Glasgow and the Mont Sainte-Anne MTB World Cup races. I find out Sarah's been seeing other podcasts behind my back and we argue about the podcast pre-nup. This may result in lawyers at 20 paces before it's all said and done (depending on who can afford the best/most lawyers). We also talk about a whole bunch of interesting and cool things, from the SBS Cycling Central episode on women's cycling through to the latest in transfer and stagiaire news. It's another cracking episode with something for everyone. (1:28:53 MIN / 85.33 MB)
Go here to buy a forever pass for FREE from the iTunes store.
Things we talked about this week
Ever wondered what we look like podcasting?  Swordpanda drew us this, it's eerily accurate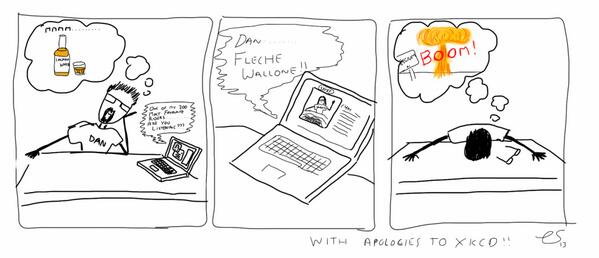 Last week's racing
It was a total Wiggle Honda domination, with Giorgia Bronzini winning six stages in a row and Linda Villumsen winning the final stage and the GC by over 5 minutes.
We really enjoyed the tweets from Iris Slappendel, and the blogs from Tiffany Cromwell, Gracie Elvin and Chloe McConville – click through to their blogs to find out what it was like to actually race.
***
Junior Track World Championships
Sarah got very excited by this – click through to her post with all the videos and links.
***
MTB World Cup, Mont-Sainte-Anne
The surroundings were beautiful and the racing was explosive – here are all the videos and links.
***
Ottile Quince (GB) retained her two World Titles in the ITT and the Road Race.  Ottilie crowd-sourced her airfare to get to the Games.  She has some great quotes in the Luton on Sunday paper and appeared on last week's episode of the UK magazine programme, The Cycle Show – you might be able to watch that on the ITV Player, it stays up for a month.
***
Transfer news
Ashleigh Moolman has signed to Hitec Products UCK for 2014 – read about it, and make sure you follow Ash's blog and twitter – she's such a fun, positive rider.
UPDATE!  Velonation have this in their article about the news, from team manager Karl Lima:
Team manager Karl Lima has confirmed to VeloNation that Longo Borghini, who is still recovering from an horrific crash in the Italian national championships, will remain part of the team in 2014 – having hinted on Twitter that two of the three riders in a podium picture from Flèche Wallonne would be Hitec Products riders.

While Lima was also able to confirm that "a majority" of the 2013 line up would be with the team next year, he was unable to state which exact riders would make up the 2014 roster. He also hinted that "another overseas rider" would be joining the team.
Junior Dutch star Floortje Mackay joins Argos-Shimano as a stagiaire for the Boels Belgium Tour.
Young Australian talent and 3-time-Junior-World-Track-Champion Amy Cure joins ORICA-AIS as a stagiaire too, focusing on the Giro Toscana.
***
Other things we saw this week
Rochelle Gilmore week! We liked her roller videos – her trick and her tips (don't get them the wrong way round) – and her article as part of the Guardian's Women In Leadership series, which includes this:
Female cyclists are ultimately more proactive in attracting publicity for our sport – we have to be, because the media attention currently given to women's cycling is so much less than what the men receive. Women are very business-minded and we know that in the current situation we have to do more than just ride a bike in order to attract media attention, and consequently more public interest and sponsorship investment, which the sport needs in order to develop.
***
Marijn de Vries' blog on dope tests, where she describes the whole testing process, and although she supports it 100%, how uncomfortable it is. It includes:
As an athlete it's your own responsibility to make sure everything you put in your mouth, or on your skin, doesn't even contain a nanogram of banned substances. Therefore we can buy special supplements which are guaranteed doping free: they are produced on spotlessly clean machines – to make sure there will be no traces of banned substances in it, coming from other supplements or medicines for 'normal people' that are also produced on those machines.

But some things you just can't know. The chicken we got the day before yesterday, for example, from the kitchen in the boarding school we spent the night in. It tasted of chlorine. And it looked so chemical I'm pretty sure it must have glowed in the dark. There could have been something forbidden in that chicken. They put so much rubbish in meat nowadays. You never know.
***
Marianne Vos wants to rebuild her first ever road bike!  Can you help?
Mijn eerste racer (24″); nostalgisch, maar incompleet. Kan iemand me helpen aan de missende onderdelen? pic.twitter.com/yRZdWi5l3c

— Marianne Vos (@marianne_vos) August 10, 2013
***
Australian tv show Cycling Central had an episode dedicated to women's cycling this week, which Dan enjoyed very much.  It's up on the Cycling Central video site – it might be geo-restricted, but check to see if you can watch it, and show the love!
***
Are you in the USA in September?  Do you love cyclocross?  Helen Wyman, one of our very favourite people, is hosting High Tea with Helen, a pair of two CX workshops as part of the Midnight Ride of Cyclocross race in Lancaster, Massachusetts on 24th & 25th September.  We recommend this hugey and wish we could go – find out more and sign up on BikeReg.
Helen was on The Bike Shop Show (oop, thanks Panda for the correction!) this week – do listen to it!  That's not the podcast that is threatening Dan and Sarah's podcast-divorce – that's the Velocast, where Sarah has a weekly slot.  Listen to this week's Velocast, if you'd like a compare'n'contrast!
***
Don't forget, if you want to buy Specialized-lululemon jerseys and team kit, there's a 10% discount if you use this code:
Summer sale starts today. Use "vs2013" as your coupon code to get 10% off team clothing…. http://t.co/uDx8yJRqgC

— Specializedlululemon (@velociosports) August 12, 2013
***
Forthcoming racing
The Open de Suède Vårgårda World Cups
Team Time Trail on 17th August – Previews on Velofocus and Les Déesses de la Route
Road Race on 19th August – preview on Velofocus and to come soon on Les Déesses.
The Vårgårda races have great twitters/tickers and are streamed live-ish – check back on the blog for how to watch, later this week.  If you want to see what the races are like, check out these videos from the late Cervélo Test Team, back in 2010 (Sarah's just including these for the Kirsten Wild & Emma Pooley interviews!)
***
Things we didn't get around to talking about
Lizzie Armitstead's tweet
Team mates got me all wrong, nicknames for me, hollywood/princess changed a bit since forehead and armpitsweat (armitstead) at school!

— Lizzie Armitstead (@L_ArmiTstead) August 8, 2013
***
Cyclingnews' interview with Evelyn Stevens
***
ORICA's video celebrating the first 100 wins from ORICA-Greenedge and ORICA-AIS: