This week's episode starts with Sarah claiming that she will beat me in an episode long bicker-fest. Cast your votes in the comments! (or don't) Following that Sarah and I wrap up the Emakumeen Bira stage-by-stage and along the way Sarah makes a very bold prediction about who will win the Giro Rosa. She challenges me to come up with my prediction and then proceeds to pick it apart (in the nicest possible way). We also recap the Tulsa Tough racing in Oklahoma, the London Nocturne racing and the Woking race in the UK. Then Sarah goes on a massive love-fest for all things Downhill MTB which results in me begging her to promise that she will never, ever actually try downhill mountain biking, for her own safety and that of innocent bystanders and wildlife anywhere near the mountain at that time. I even go to the trouble of asking Swordpanda to illustrate why Sarah shouldn't do it. (Spoiler alert: results below!) We also talk about Sarah's new art project and how you can help to make beautiful art, and I briefly mention a great interview with Tracey Gaudry on the Australian cycling chat show, Cycling Central. Another jam-packed full of awesome episode waiting for you to press play. (1:19:09 MIN /  MB)
UPDATE:  We've also had confirmation from Twitter that Emma Johansson and Gracie Elvin will be on this week's episode of Cycling Central, so Aussie fans make sure to watch it and we'll point you towards the interviews when they're available online.
Had the pleasure of interviewing @gracieelvin & @emmaprocyclist today. Hear what they had to say on Sundays @cyclingcentral #sbscycling

— Katherine Bates (@KatherineLBates) June 13, 2013
Or go over to the iTunes place to tune your Is and get your podcasts delivered FREE!
Things we talked about this week
This week's racing
Sarah's racing round-up on Total Women's Cycling
Video from the start of Stage 1
Tweets from riders about the apocalyptical Stage 1 conditions
Who made it rain soap on the Basque roads today?! Whole peloton must have come down. I downhilled like Wiggins, crashed only once, though.

— Marijn de Vries (@marijnfietst) June 7, 2013
Thanks @sharagillow for helping me back on after I slipped out on a corner. Gotta love hail/lightning 20mins b4start twitter.com/NettieEdmondso…

— Annette Edmondson (@NettieEdmondson) June 6, 2013
The told us the descent between 54 and 59 was dangerous but watching riders crash in every corner like thrown dice was not what I expected.

— Liz Hatch (@Liz_Hatch) June 7, 2013
Never went downhill so gingerly. My a$$hole was puckered so tightly I doubt I'll use the toilet this week.

— Liz Hatch (@Liz_Hatch) June 7, 2013
It was Sharon Laws' first stage race back after her  horrible accident.  Sarah interviewed her about the accident, recovery, women's cycling in South Africa, and much more – click through to Podium Café and read it.  Here's Sharon's tweet after Stage 1:
What a welcome back to bike racing; rain, thunder, lightening, carnage! Was happy to stay upright #officejobmoreappealingtoday

— Sharon Laws (@SharonNLaws) June 7, 2013
Video of the final General Classification podium:
Saul from Cobbles & Hills was tweeting live updates from the race over the weekend on @kapelmuur29, and he had lots of lovely photos (we're impressed he hadn't drowned!).  We loved it, so we were especially pleased that the riders loved it too.  Look what Evie Stevens gave him to say thanks:
I have no words for @evelyn_stevens . She gave us her trophee as a present. THANK YOU!!! twitter.com/kapelmuur29/st…

— Saul Thonolan (@kapelmuur29) June 9, 2013
***
***
No carnage yet @nocturneseries #ignocturne twitter.com/CXHelen/status…

— Helen Wyman (@CXHelen) June 8, 2013
Well you would expect penguins to be good at awinter sport wouldn't you?! #IGnocturne twitter.com/CXHelen/status…

— Helen Wyman (@CXHelen) June 8, 2013
***
The Woking round of the Johnson Health Tech Grand Prix at the UK Tour Series
***
The first Downhill MTB World Cup of the 2013 season – Fort William, 9th June 2013
***
This isn't women's cycling, but Dan thought it was very cool – answering the question of what's faster, a peregrine falcon or a MTB rider:
***
Dan doesn't think Sarah should ever try downhill MTB, and wanted Caroline Stewart, aka Swordpanda to draw possible consequences.  So she did!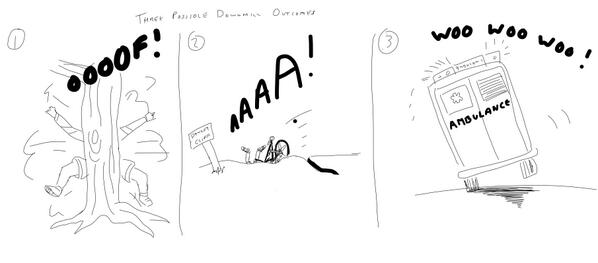 Big thanks to Caroline!  We loved the drawing of a bike she did for us (scroll down!) and if you like it too, you can buy it on a t-shirt on her Zazzle shop!
***
Poor Ina-Yoko Teutenberg won't be coming back to racing this season, as she's still recovering from her Drentse 8 head injury.  We miss her, but we're really glad she's being as safe as possible, and hope she heals fully and well (and that someone will give her a job commentating the Giro Rosa, Tour de France and all the World Champs races!)  Here's the Specialized-lululemon team statement, which includes:
"It's been pretty hard for her. She's been racing since she was six years old and she definitely doesn't like being this sedentary. She also hates letting down her team. But she supports them for the sideline and this will give her a chance to recover fully and then make a decision later in the year if she'll be back for another year of racing next year."
***
Dan recommends everyone watch this interview on SBS Cycling Central with the President of the UCI's Oceania Cycling Confederation, Tracey Gaudry. (This may be viewable in Australia only and the interview starts at the 9:55 mark)
***
Sarah would love it if you could tell her why you love cycling.  Thankyou!
***
Upcoming races
The Nature Valley Grand Prix, 12th-17th June 2013
The Val di Sole MTB World Cup – Cross country, Eliminator and Downhill, 13th-16th June 2013
The Giro del Trentino, 15th-16th June 2013
***
We didn't mention this, because we saw them after we recorded…
And speaking of the Giro, here's nnother promotional video for the Giro Rosa – with photos from last year's Giro Donne: