Shirt Week – Swordpanda edition!
Dan and I are big fans of Swordpanda, aka Caroline Stewart.  She's a bike mechanic for W.F. Holdsworth Cycles in London, (you can read all about that on Total Women's Cycling) and among other things, can be found blogging about bikes and teaching swordfighting.  We know her from twitter, and she's been great to us, and has drawn us some pictures (here and here).  We love all of that, and especially the picture of a bike she drew, after Dan's been suggesting I don't know my derailleur from my bartape: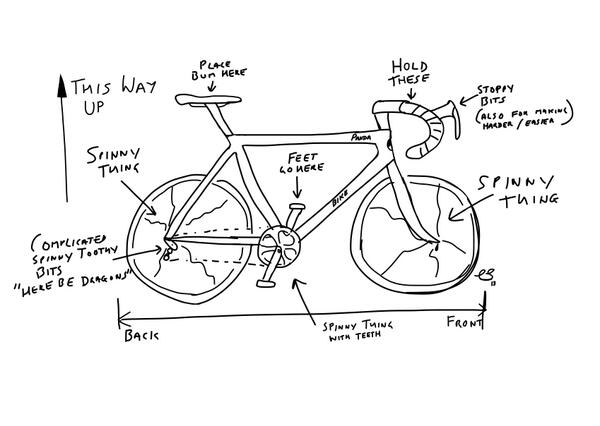 I love this!  And when she posted it on twitter, Mishoo suggested she put it on a t-shirt… so she did!  If you'd like one, head over the Caroline's Zazzle shop, where it's available in women's and men's cut t-shirts, sweatshirts and all the other Zazzle clothing Perfect for any bike fan!