After last week's ranting and misanthropy we found a lot to love in this week's racing. Enough that Sarah actually got her mojo back! We're all grateful for that and so we start by embarking on a romp through the races. Gooik-Geraardsbergen-Gooik, Boels Rental Hills Classic, US Nationals and so on. Dan loses that ability to tell if he's being dirty or not. Sarah asks for access to all of Dan's social media accounts (he declines). We divert through some classic Helen Wymanisms and take a quick look at The Milk Race in the UK. We catch up with the results of Gracie Elvin's twitter experiment and then things take a turn for the dark as Dan reviews Pat McQuaid's op-ed for Cycling News about the UCI Stakeholder Survey (hint: he calls it "18 kinds of fucked" and then has a rage-blank). We do suggest you stick around for the bit where he triple-dares Pat to the world's shortest policy debate. This is a super-long episode (sorry, sort of but not really) so make an extra cup of tea or pour twice as much whisky and get ready. (1:34:07 MIN / 90.36 MB)
Go here to subscribe forever to iTunes for FREE.
UPDATE: Swordpanda knocked up this briliant rough sketch for Dan's dream commuting bike!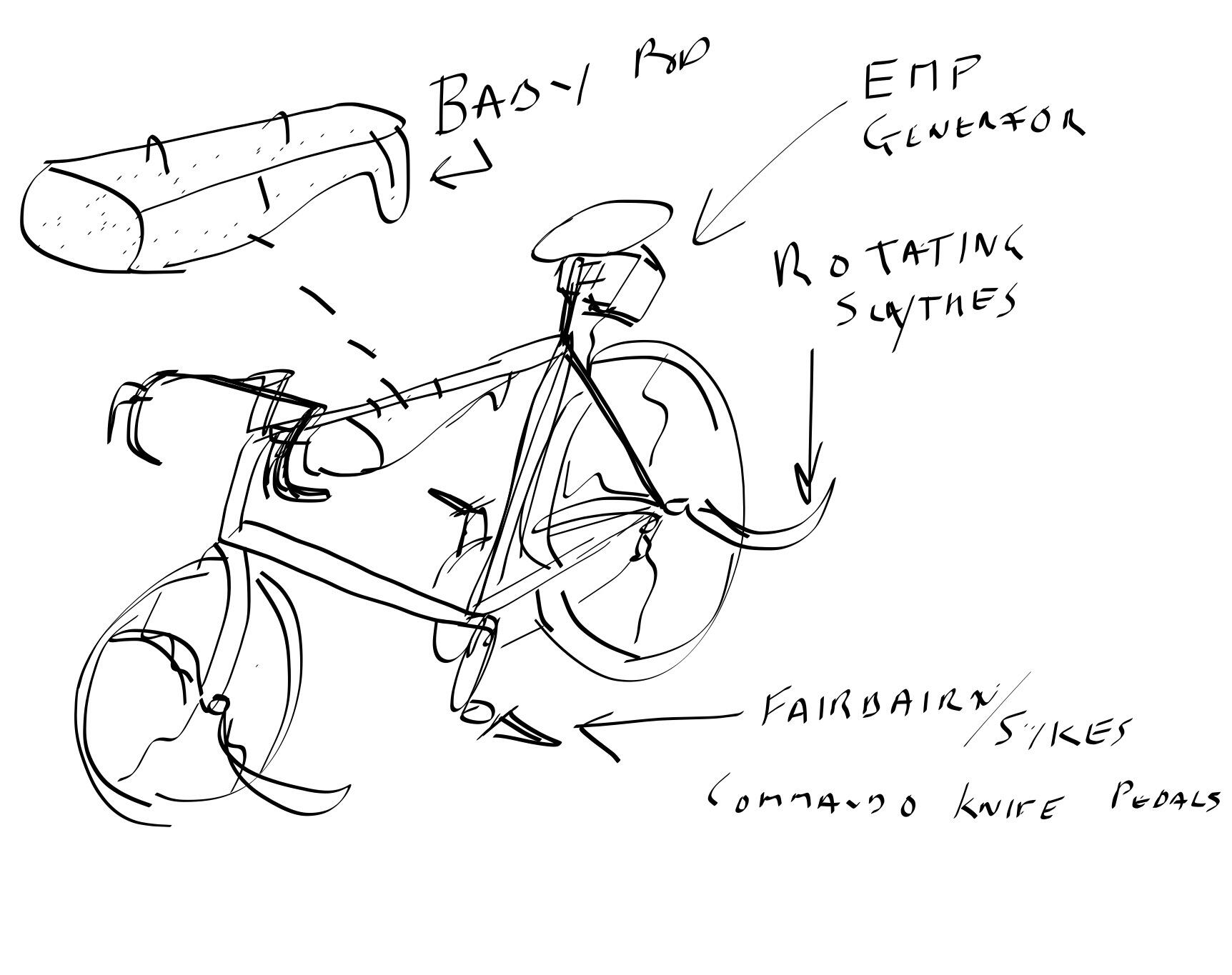 Things we talked about this week
All the racing at Gooik, Aalburg, Holland Hills and the USA Nationals – check out Sarah's report on Total Women's Cycling, and all the videos of the races Sarah has found so far – and how this weekend gave Sarah her mojo back.
More below….
Racing in Europe
USA National Championships
We liked this tweet about brand-new USA Road Race National Champion, Jade Wilcoxson.
Told @jadewilcoxson slept in her national champion's jersey & wore it all morning, but took it off to ride. Didn't want to "show off."

— Dan Wuori (@dwuori) May 29, 2013
You can find out more about Jade on her website, her profile on the Optum ProCycling site, and by following her twitter.
***
Grace Sulzberger's interview last year on coming back to cycling from bulimia (and cycling's role in her condition) and Marijn de Vries' blog last year on relationships between cyclists and food in the pro peloton.
***
This offer we talked about from the Sufferfest is now over
Please RT! Next 15 hrs: Profits from sale of HHNF go to women's cycling @halftheroad. Use code SCORNME save 20% thesufferfest.com/video-sufferfe…

— The Sufferfest (@thesufferfest) May 30, 2013
and look what they raised in 15 hours!
On behalf of Sufferlandrians who bought our HHNF video to support women's cycling, we're proud to donate $2,750 to @halftheroad

— The Sufferfest (@thesufferfest) May 31, 2013
If you want a bike training video that will cause you real pain while showing you some fantastic women's racing, buy Hell Hath No Fury anyway!  And we'll always recommend that you support the superb Half The Road women's cycling documentary, if you can – have a look at their website, and the Indiegogo fundraising page, where you can watch the trailer, and donate if you can.
***
Total Women's Cycling interview with bike mechanic Caroline Stewart, aka Swordpanda.  We recommend you tweet Caroline and ask her all your tech/mech questions (including which way up the bike goes, which is the front of the saddle etc etc etc.
Also on Total Women's Cycling, Adele Mitchell's piece on Marketing, cycling and women.  We couldn't believe the names of the Cove bikes range – and yes, after the podcast, Dan did explain the meaning behind the one Sarah thought was innocent, and yes, she really wishes he hadn't!
***
Strange news from Argos-Shimano – Charlotte Becker has left,"by mutual agreement", and Marlen Jöhrend has left too (that's Dutch, here's google translated).  What's going on?  Coincidence?  Decks clearing to bring in new talent?  Something more sinister?  We have no idea!  But we hope everything's ok with the riders and the team.
***
Remember Gracie Elvin's little twitter experiment?  She very kindly shared the stats with us – she got 2,022 RTs and 1,103 Favourites – 425 of the RTs were in the first day, and 850 in the first week.  She purposefully kept this a low-key experiment – we say this is another piece of evidence of the power of women's cycling.
Dan compared this to the 6,300 people who responded to the MUCH bigger UCI stakeholder survey, and had an extended rant about Pat McQuaid's opinion piece on Cyclingnews on the result of that consultation.  Here's the Survey's Executive Summary – we haven't read that yet, because we fear for our blood pressure….  if you've read it, and can tell us what it says about women's cycling, tell us in the comments!  (and re Dan's challenge to Pat, here's Sarah's mini-manifesto on developing women's cycling, from Cyclingnews last year)
If you want more ranting about this, Sarah liked listening to the ranty Scotsmen on this week's Velocast Eurosport Podcast (Sarah does a short segment for them on women's racing every week, so she may be biased!)
***
Marijn de Vries' blog about her second crash in the Tour de Languedoc Roussillon – what it's like to lose consciousness in the middle of a bike race (get well soon Marijn!).  Includes:
You were sitting on the road, upright, my teammates tell me. They passed me with the bunch right after I crashed. You sat there, looking at us. That's why we thought you were okay. I even asked you if you were all right, adds one of my teammates. Really? I hardly believe my ears. I cannot remember a single thing. You didn't remember your name when I arrived, adds Dany. Were you there for a long time already when you started to help me on my feet, I ask him. Yes, we were there for several minutes. You had no idea of the day of the week, nor where you were.
***
The Giro Rosa has announced the sponsors of their jerseys – we love that they are promoting the Marina Romoli Onlus, the not-for-profit organisation set up by young Italian cyclist Marina Romoli, after a car hit her in training, leaving her in a wheelchair.  Find out more about the work of the organisation, and Romoli's story (in Italian or in English via google translate)
***
The next races are:
Saul, who runs Cobbles & Hills, will be at the Basque races – keep an eye on the site for his previews of the races (in Spanish) and race reports, and follow him on twitter, for updates (no, we're not jealous at all!)
***
We didn't see this before we 'casted, but we do love Emma Pooley interviews – here's a little one on tri247 about her upcoming triathlon-ing and  road  racing plans.
***
Finally, in the ongoing Dan-and-Sarah-pop-culture-wars, Sarah was telling Dan about one of the first black Hollywood film stars, Dorothy Dandridge – the first black woman ever nominated for a Best Actress Oscar.  Here's a great article about her life, on the hairpin, here's the wikipedia about her, and here's a bad-quality video of her singing, on her first tv appearance, and singing with Louis Armstrong in 'From Pillow to Post' (If you get the chance, watch Carmen Jones, and the 1959 film of Porgy & Bess)
UPDATED UPDATE 2: Swordpanda also made Sarah a great introduction to what's what on a bike: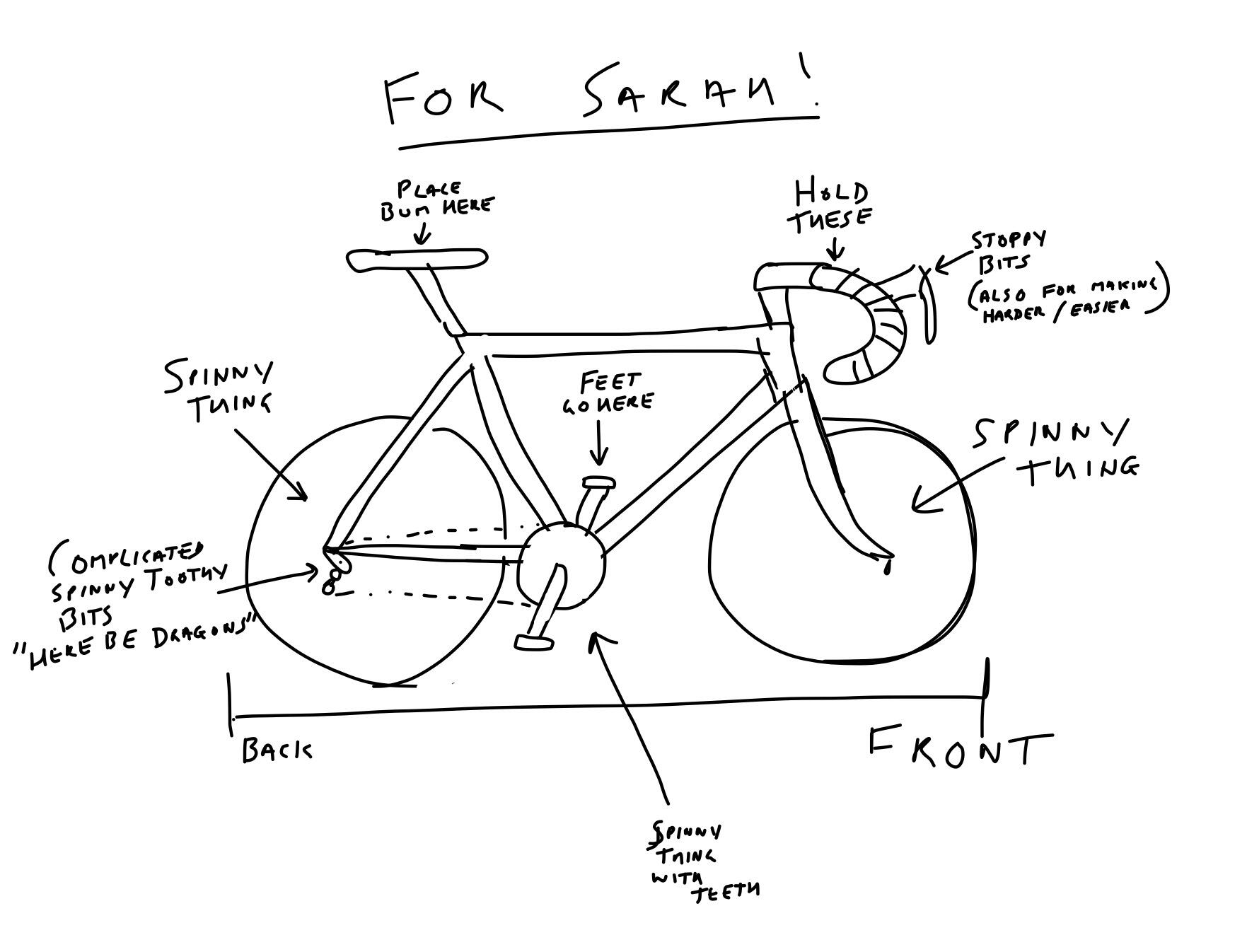 ***
As always, if you have any feedback, comments, or things you think we might be interested in, get in touch via the comments, email us at prowomenscycling [at] gmail [dot] com, or contact us on twitter, where Dan is @entendered and Sarah is @_pigeons_.  Thanks for listening!