Mark it down in your calendars kids! Today we received our very first photo of one of our Social Media Jersey prize winners with their prize. Sarah's posted the general prize update here, so I won't re-hash all that. What we will do is use this post as the place to post new photos as we get them. We may also add comments or quotes from the winners, or possibly make up stories (hint: the made up stories are italicised).
20/11/12 Here's our overall winner, Emma Trott, wearing her Jersey!
Emma is the winningest winner we've ever had when it comes to the Social Media Jersey and we're proud that she's added such a prestigious award to her palmares at such an early age. Emma is also the youngest ever winner of the social media jersey, the best looking, the richest, the funniest, the smartest, the toothiest, the hairiest, the smelliest, the sweetest, the kindest, the most articulate, the Britishest, the fastest and the fury-est. Good job Emma!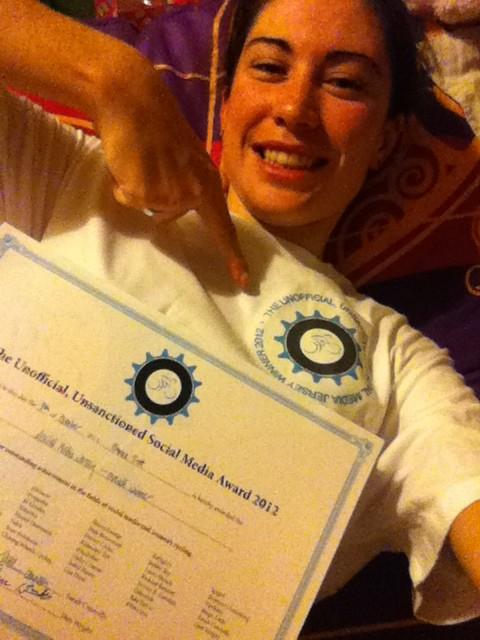 Typical cyclist every opportunity to take a lie down! Thanks to those who voted, donated and @_pigeons_for the idea! twitter.com/EmmaTrott1989/…

— Emma Trott (@EmmaTrott1989) November 20, 2012
More below the jump!
And here's Marijn de Vries' photo and tweet:
True story, Marijn once dreamed of a career as a professional chicken wrestler (we don't know what that is either) but she gave up on this dream when she found out that she didn't get to keep the chickens. Fortunately for the rest of us this meant that she turned to great success in cycling. She still doesn't get to keep the chickens, but it does give her material for some of the best stories you're likely to encounter anywhere.
Dear @_pigeons_ & @entendered, thank you so much for initiating the Social Media Jersey! Thrilled with my prize! twitpic.com/bet3sc

— Marijn de Vries (@marijnfietst) November 20, 2012
12/11/12: Updated with Emma Johansson's photo and tweet!
The popular X-Men character Wolverine is rumoured to have been based on Emma and her amazing ability to bounce back from multiple-fracture injuries and continue to perform at the highest levels. No matter what you might hear, we at Pro Women's Cycling can categorically confirm that the comparison is not based on Emma's love of bourbon, cigars or an exceptional amount of body hair.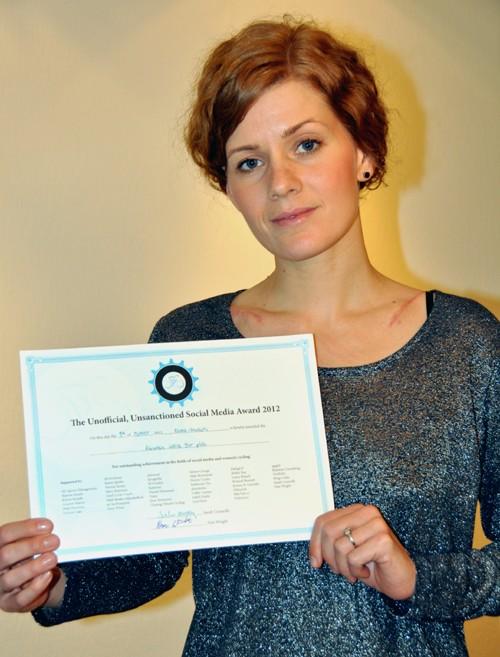 Proud of my certificate for the SocialMediaJersey! My price I donated to a cause close to my ❤ barncancerfonden.se/Gavor-Bidrag/E… twitter.com/emmaprocyclist…

— Emma Johansson(@emmaprocyclist) November 12, 2012
Emma donated her prize money to the Barncancer Fonden Swedish children's cancer charity – if you'd like to help Emma raise @10,000 this year, click here and donate too (if you have problems with the Swedish/google translate, email me at prowomenscycling [at] gmail [dot] com and I'll ask some nice Swedes to help you!)
11/11/12: Updated with photos from Lex Albrecht, Leah Kirchmann and Sara Olsson
According to an ancient Scandinavian legend, Sara gained her cycling powers after capturing a troll in a snare she made in the woods. She then tickled the troll mercilessly until it offered to give her incredible magick cycling powers and social media prowess if she promised to stop tickling and never tell. Sara famously loves music with a special fondness for homegrown death metal and folk-jazz-hip-hop.
Sara's photos: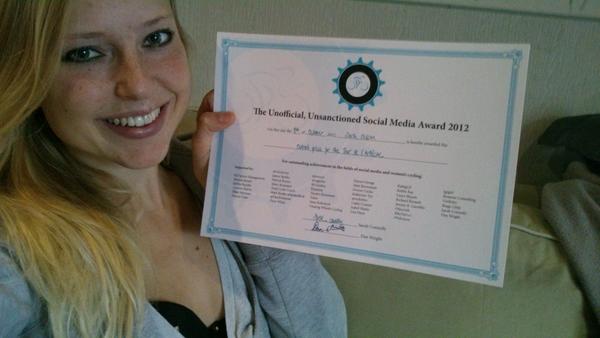 Happy Social Media Jersey winner! #ardeche Thanx u'all!! @_pigeons_ @entendered twitter.com/saaaraolsson/s…

— Sara Olsson(@saaaraolsson) November 8, 2012
Forgot to show you guys my prize from Social Media Jersey! Winner of #ardeche Thanx u'all!! @_pigeons_ @entendered twitter.com/saaaraolsson/s…

— Sara Olsson(@saaaraolsson) November 8, 2012
Don't forget to read Sara's blog post about the Jersey!
***
Leah Kirchmann very nearly took up an alternate career as a roughneck (oil-rigger for those of you who don't know). Unfortunately that career didn't last because the other riggers couldn't keep up with her on the rig, or in the bar. She's also a former North American karaoke/slam-poetry champion, with a book of award winning and genre-bending slam-haiku due out at the end of the year. It's also been rumoured that Leah is spending her off-season perfecting a new kind of interval training which involves stranding yourself in the woods and waiting for a mountain lion or bear to charge.
Here's Leah Kirchmann's lovely blog about the prize, with this really sweet quote:
In honor of coming in top ten in The Unofficial, Unsanctioned Women's Social Media Jersey competition, I'm choosing to celebrate with a new blog post! Yay! This contest was organized during the end of season women's races leading up to worlds, and encouraged rider use of social media. Fans generously donated towards a prize fund for the winners and could vote for riders nominated for their social media efforts. Overall, I thought it was a great idea for helping people follow women's racing!
and here's her photo:
***
Lex Albrecht actually had to take 27 different dog-sled teams in a relay from her home to the post office in order to collect her certificate. It took 4 and a half months and also required her to use a time machine to travel back in time so that she could complete the trip in her one-week-long off-season. She braved 198 blizzards and had to climb out of 3 blind crevasses that various dog teams went into (she managed to pull all the dogs out safely, what a woman!). When she got to he post office she then had a 48 hour pitched battle with a Saskatchewan ice-hockey team who tried to cut in line. What we're really saying is that Quebecois women are tough.
And here's Lex Albrecht's blog about the competition, and her blog about it from September (thankyou Lex!) and her photo of her certificate:
The Social Media Jersey Certificiate is in, I'll be proudly displaying it on my wall lexalbrecht.blogspot.ca/2012/10/a-cert… thanks @_pigeons_ and @entendered

— Lex Albrecht (@Lex_Albrecht) October 31, 2012
27/10/12: Updated with Amber Pierce's photo – thankyou Amber!
Thrilled & honored! prowomenscycling.com/2012/10/24/the…! THANK YOU @_pigeons_ @entendered & all the fans who made it happen! twitter.com/ambermalika/st…

— Amber Pierce (Rais) (@ambermalika) October 27, 2012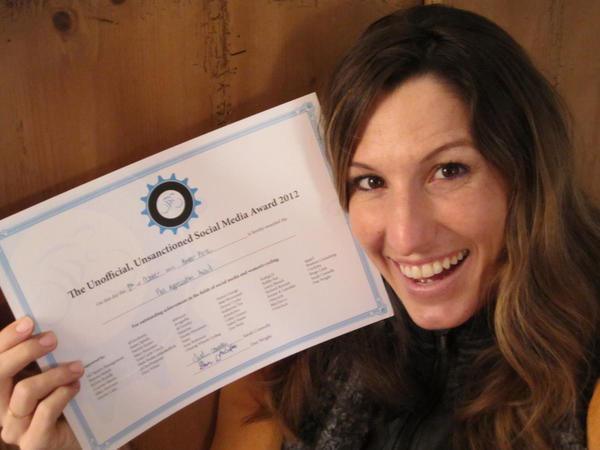 Amber blogs on Triple Crankset, tweets as @AmberMalika and has a whole range of different social media that you can access via her webportal – follow them all!
True story, Amber took this photo as she was explaining to her hairdresser that she wanted her hair cut in the same style as the certificate (no, we don't know what that means either). Anyway, it turns out that a team of 47 hair professionals then worked on Amber's hair for a combined total of 20921 hours, cutting, colouring, drying, sculpting, signing, printing in serif and sans-serif fonts. It took ages but they finally got her hair to look just like the certificate, then she put her helmet on and rode home from the salon. By the time she got home, helmet hair had undone all their hard work.
***
"This photo was taken by Tiffany Cromwell after she'd won the Unicorn Jousting event at the Annual Monaco Medieval Faire. She's wearing a silk dress made from 100% faerie silk, and it imbues her with the power to fly, read minds, control people she makes eye contact with and to go on solo 107km winning breaks in stage races."
Thanks so much to all the fans that voted and contributed and @_pigeons_ and Dan for putting together the social comp twitter.com/tiffanycromwel…

— Tiffany Jane (@tiffanycromwell) October 24, 2012
And of course, the photo:
Read Tiffany's great blogs on her website, her race reports on the Orica-AIS website, and follow her twitter @TiffanyCromwell.